Jorge Lorenzo Impresses At Race Of Champions
Chaparral Motorsports
|
December 17, 2012
[caption id="attachment_22192" align="alignright" width="300"]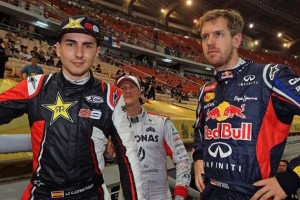 Jorge Lorenzo faced off against Formula One stars Sebastian Vettel and Michael Schumacher.[/caption]

MotoGP may be in the middle of its winter break, but that hasn't stopped some racers from immersing themselves in other aspects of motorsports. Jorge Lorenzo was one notable name who stepped out on a track in Bangkok, Thailand, where he participated in the Race of Champions.

The competition pits top riders from all sides of motorsports against each other in identical four-wheel vehicles. Lorenzo faced off against former MotoGP champion Mickey Doohan, as well as Formula One stars Sebastian Vettel and Michael Schumacher. He eventually lost to Vettel, but managed to leave with a positive impression of the experience.

"It's been a fantastic experience to be here in Thailand again," Lorenzo said. "... I have really enjoyed the Race of Champions; the drivers are so talented and it's a real challenge to try to keep up with them. I would like to come back next time and maybe bring some motorbikes for them to try."

Lorenzo also took part in some other festivities throughout the city, leading a procession of Yamaha riders through the streets and acting as the guest of honor at a racing event that featured several top Thai riders and Yamaha officials.