MotoGP Rookies Cup Announces 2013 Races
Chaparral Motorsports
|
December 13, 2012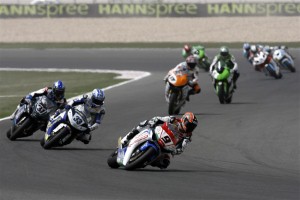 The Red Bull MotoGP Rookies Cup is returning for a seventh season in 2013, kicking off the 14-round series in April with two dozen riders vying to test their mettle as professional racers.

Rookie riders will get their first taste of motorsports in February and March, as they head to Jerez, Spain, for pre-season tests. The season begins April 20 at Circuit of the Americas in Austin, Texas, before venturing to locations like the Netherlands, Germany, the Czech Republic, San Marino and Great Britain. This series concludes at the end of September with a return to Spain.

These seven months of events will be the first foray into the world of professional racing for many of the 24 teenager riders taking part in the 2013 series. All will have an end goal of proving their skills and improving enough to move into one of the World Championship Grand Prix classes.

Much like the factory MotoGP riders, these young competitors will be using world-class machines on some of the most famous tracks in the world. This year the series is using the KTM 250 RBR 4-stroke Moto3 machine, which is a change from the 2-stroke KTM RC 125 used in years past.