Motorcycle Maniac: 2012 Ducati Monster 796 - Sheer Power For The Modern Rider
Chaparral Motorsports
|
December 9, 2012
[caption id="attachment_22156" align="alignright" width="300"]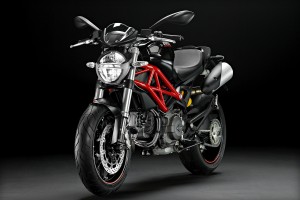 Ducati is known for producing fast, powerful bikes, and the Monster 796 certainly lives up to these standards.[/caption]

Ducati is known for producing fast, powerful bikes, and the Monster 796 certainly lives up to these standards. This barebones motorcycle stands out against its competitors as far as looks go, and when you get the chance to open it up on the track, you can really appreciate just how much different this bike it from similar models. It has a powerful engine, of which riders can really take advantage, since the bike's overall weight is so low. The bike is extremely fun to ride, but riders should take care when they travel on public roads, since it can be pretty challenging to observe the speed limit in this beast of a two-wheeled machine.

The Monster 796 has been an integral part of Ducati's lineup since 1992, and this year's model is no different. With a twin-cylinder, 803cc Desmodromic engine and a bore and stroke of 83mm by 66m, this bike is sheer power on two wheels. The lightweight flywheel helps riders utilize the energy output of the motor, warranting as much as 87 horsepower when reaching maximum RPMs. While it may be difficult to stay calm in stop-and-go traffic, Ducati ensures riders can safely navigate traffic, with the addition of an APTC wet clutch, that makes downshifting a piece of cake.

When cruising in lower gears, it's easy to tell this bike was not built for such things. Once you reach the highway and can push the bike up into third gear and beyond, that's when you'll really start to appreciate the ride. Ducati designed the bike to be ridden at high speeds, which is evident in the placement of the handlebars and the placement of the footpegs.

It can be easy to get caught up in the moment when you're riding the Monster, which is when the Ducati Data Analyzer comes in handy. This optional motorcycle accessory can be plugged into the dash of the 796 and records information pertaining to the bike's performance. This includes throttle opening, speeds, RPMs, engine temperature and distance traveled - making it easy to monitor your motorcycle and spot issues early. There are many other features that help make this bike not just powerful but advances, so riders feel as though they're flying down the highway toward the future of biking.

2012 Ducati Monster 796 Image Gallery
(Click for full size images)