Motorcycle Maniac: 2012 Zero DS Has Improved Appeal
Chaparral Motorsports
|
December 7, 2012
Improved Range Makes The 2012 Zero DS More Appealing
[caption id="attachment_22140" align="alignright" width="300"]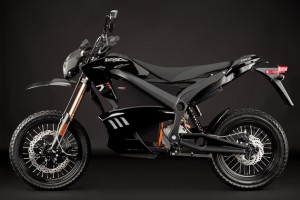 Zero Motorcycles makes street bikes and dirt bikes, as well as a one dual-sport option, which was revamped for 2012.[/caption]

California-based motorcycle company Zero produces nothing but electric bikes. The company makes street bikes and dirt bikes, as well as a one dual-sport option, which was revamped for 2012. The Zero DS lets you "go green" on and off the asphalt, and this year's updates let you ride longer and farther than previous models. But the harder you ride, the faster you drain the charge, and I for one do not like the prospect of running out of steam in the middle of nowhere.

Range anxiety aside, the Zero DS is actually quite an impressive bike if you can get past the lack of the vibrating growl of the engine. The company offers two power pack options - the ZF6 and ZF9. The former will warrant a maximum riding range of about 75 miles, and the latter provides the boost to let you ride the bike for as much as 112 miles on a full charge. On the highway, you'll get 42 or 62 miles, respectively, and the bike can reach speeds up to 80 miles per hour.

Unlike a regular bike that takes a minute or two to top off the tank, the DS has a pretty hefty recharge time. The ZF6 needs six hours to completely recharge, and the ZF9 takes nine hours. Zero offers motorcycle accessories that speed up the process, allowing you to recharge the ZF6 in under two hours. The ZF9 takes a little under two and a half hours with the fastest charging enhancer.

As far as power, the DS is not going to be competing with 1000R superbikes anytime soon, but it does seem pretty comparable to bikes with 250cc engines. It rides smoothly on paved roads and handles well in the hectic world of city driving. At the same time, the DS gets plenty of traction in the sand and dirt, making it easy to transition from one surface to the other. Despite the power and handling this bike offers, I wouldn't recommend it for anyone who prefers to take longer rides. This electric motorcycle is ideal for riders who like to zip to and from work on two wheels, and those who enjoy taking short rides for the sake of riding now and then.

2012 Zero DS Image Gallery
(Click for full size images)