Evel Knievel's Gear Up For Sale
Chaparral Motorsports
|
December 6, 2012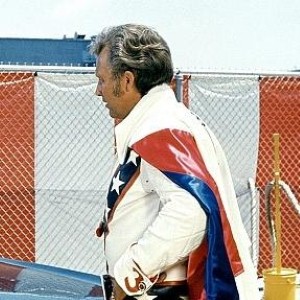 Gear
from the famous daredevil Evel Knievel is going up for sale at a Los Angeles auction next week. One of the thrill-seeker's famous red, white and blue jumpsuits will be on the block, as well as a blue and white helmet worn during the 1975 motorcycle jump at Wembley Stadium in London, where he leapt over 13 single-decker buses.

According to NBC Sports, the London event eventually led Knievel to announce his retirement, after he was left with a broken hand and broken pelvis after crashing at the end of the jump, though he still continued his antics for another 11 years. The jumpsuit will also be familiar to Knievel fans, as he used the flamboyant style to become the epitome of a showman, Ultimate Motorcycling reports.

Both items came to the auction house from a private collection and are expected to bring in approximately $60,000. The crash helmet could even go as high as $80,000 before the sale is final.

Knievel fans should also take note of a separate upcoming auction in New York, where the daredevil's 2005 Harley-Davidson motorcycle will be up for sale. According to The Republic, that bike is also expected to fetch around $60,000.