Daimler And Vectrix To Produce EScooters
Chaparral Motorsports
|
December 4, 2012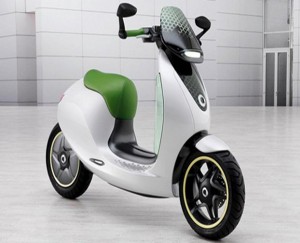 Daimler, the well-known automobile manufacturer, is joining forces with Vectrix to create an electric scooter as part of the Smart brand. Vectrix, which specializes in motorcycles and other types of two-wheeled machines, will help to bring the Smart Scooter and the Smart eBike to streets in 2014.

The Smart Scooter was initially introduced at the Paris Auto Show in 2010, alongside an electric bicycle known as the eBike. According to Motorcycle.com, the scooter should fit in well with the Smart brand and offer a fuel-efficient alternative to current urban transportation options. The zero-emissions ride is rumored to be able to handle short, medium or long distances of city driving and have a range of up to 87 miles of electric riding, TheGreenCar reports.

"Smart and Vetrix are both pioneers of electric mobility for the city," said Annette Winkler, head of Smart, as quoted by the news source. "The Smart scooter will be a true Smart and we want to make it an icon of urban mobility - just like the Smart ForTwo."

While the concept featured unique scooter accessories as part of the scooter, including an attachment that allowed riders to use iPhones as a display screen, the finished product will also likely have elements of Smart's distinctive style along with a traditional scooter design.