Honda Comes Out On Top At Baja 1000
Chaparral Motorsports
|
November 21, 2012
[caption id="attachment_18255" align="alignright" width="300"]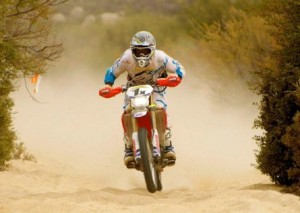 The JCR/Honda trio of Colton Udall, David Kamo and Timmy Weigand won the 45th SCORE Baja 1000 - Photo: Karlos Morales Espinoza[/caption]

Honda emerged as the big winner of the 45th Tecate SCORE Baja 1000, the annual off-road motorsports race in Mexico's Baja Peninsula. The Honda team of Colton Udall, Timmy Weigand and David Kamo came out with a victory over the Kawasaki and KTM teams, Cycle News reports.

The three teams were within 15 minutes of each other for a large portion of the race, but a rider injury for KTM and mechanical problems for Kawasaki allowed Honda to extend the lead.

"We've been coming to Baja for years and years," said Weigand. "We have three amazing teammates and we are the underdogs every race. We weren't the big guys to win and we don't have a star-studded bunch of riders but we've been down here and we have...a great bike in Honda. We've won this race before so we expected to do the same."

The Honda team finished the race in a little over 20 hours, with Udall riding the beginning of the course to El Crucero before handing off to Kamo, who rode from El Crucero to San Ignacio. Udall then got back on the bike and rode to Loreto, where Weigand took over and finished in La Paz.