Motorcycle Maniac: 2012 Triumph America - A Two-Wheeled Homage From Across The Sea
Chaparral Motorsports
|
November 12, 2012
[caption id="attachment_17345" align="alignright" width="300"]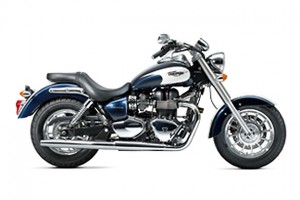 The 2012 Triumph America is a small bike that packs more of a punch than you might think.[/caption]

When British motorcycle manufacturer Triumph debuted the America cruiser, its name raised some suspicion, but the bike otherwise went relatively unnoticed for the past decade. That all changed with the release of the 2012 model. This small bike packs more of a punch than you might think, and when I got a chance to take it for a test ride, I couldn't help but notice how smoothly it ran. This may be an entry-level cruiser, but you forget that as soon as you fire up the engine and hit the open road.

The bike's engine isn't that different from most other cruisers - it's a parallel twin, air-cooled 856cc motor with a five-speed transmission and multipoint sequential electronic fuel injection. Roughly translated, this means you're not being shaken like a martini as you drive down the road, which isn't something every cruiser can boast. The America's engine may look familiar, as it's the same one used on the Bonneville bikes, but it has a 270 degree firing order so it feels like you've got a twin-cylinder engine between your legs, and it gets an impressive 60 horses at 6800 rpm, so you can ride w2ith confidence on the highway. When you're just cruising around town, the bike gets 53 foot-pounds of torque at 3300 rpm, which lets you impress other drivers with the quick acceleration.

The bike rests just 27 inches off the ground on two fat tires - a 15-inch rear wheel and a 16-inch wheel in the front. It has a low, laid-back seat and low-profile handlebars that stretch back toward the rear of the bike for a comfortable grip. These and other features give it the classic cruiser appeal, and the bold chrome exhaust pipe that runs the length of the chassis is eye-catching in combination with the chrome wheels and other highlights. The bike is available in Caribbean blue with crystal white highlights or Phantom black for a more mysterious appeal.

At 550 pounds, the America is the lightest bike in its class, which helps you get more bang for your buck. Triumph also offers a slew of cruiser accessories, such as saddlebags, floorboards, sissy bars and windshields so you can personalize this bike to your heart's content.

2012 Triumph America Image Gallery
(Click for full size images)