Previewing MotoGP's Season Finale
Chaparral Motorsports
|
November 9, 2012
[caption id="attachment_17211" align="alignright" width="300"]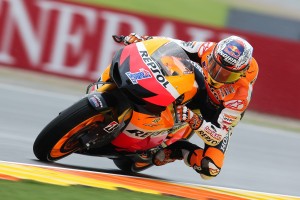 Valencia would be a fitting place to end the last race of Casey Stoner's career with a win.[/caption]

Jorge Lorenzo clinched the MotoGP title two weeks ago at Phillip Island, and now he has a chance to close out the season in front of a home crowd in Valencia, Spain. The newly crowned champion is one of the favorites to win as the riders enter the final round of the motorsports series.

"This is the last round of the season, it's a great feeling to be coming home to my Spanish fans as the world champion," said Lorenzo. "It's been a long, tough year and we have all worked so hard to get here, now this weekend will be one to enjoy for all of us with less pressure. I will of course still be pushing for the top step of the podium."

Lorenzo will have to battle his countryman and rival Dani Pedrosa for the top spot. Pedrosa comes into Valencia at second place in the season standings, with a solid track record at Valencia. He has won five times at the circuit.

Pedrosa's Honda teammate Casey Stoner, who finds himself sitting at third overall despite missing a chunk of the season due to injury, has also had success at the Spanish raceway. It was the site for his first ever MotoGP victory in 2003, and would be a fitting place to end the last race of his career with a win.