Motorcycle Maniac: 2013 Kawasaki Ninja 300 - Designed For New Riders
Chaparral Motorsports
|
November 8, 2012
[caption id="attachment_17192" align="alignright" width="300"]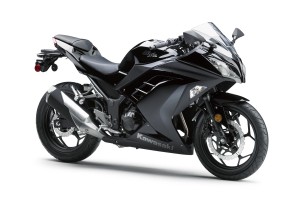 The entry level Ninja 300 made its debut in Times Square in New York City .[/caption]

Even if you're not a bike enthusiast like myself, you've probably at least heard of the Kawasaki Ninja. The sport motorcycle is known for its speed, power and sleek design, and the new 2013 Ninja 300 is no different. This entry level Ninja made its debut in Times Square in New York City, and I must say the bike looks pretty nice. It's got quite a few features that set it apart from its predecessor, as well.

The Ninja 300 is similar to the 250R it replaces, but the bulkiness that the previous model carried has been pared down the for 300. The overall design is very similar, except there is less paneling on the new bike. It's slimmer and sleeker than its predecessor, looking more like its larger two-wheeled brothers, which is sure to make the bike more appealing to novice riders, since they can get the sense of climbing onto a more powerful ride.

While the look of the bike is a bit different than the 250R, Kawasaki chose to keep a few things the same, including the engine. The parallel-Twin 296cc liquid-cooled engine was installed at the same height as it was in the 250R, but since the frames are slightly different, Kawasaki has to use a 7.8mm longer stroke and shorter, lighter connecting rods to make it work. The frame itself is rumored to be made of diamond-style steel tubes for added rigidity. I guess the company did this so you don't destroy the bike when you're still learning to ride it, since it's inevitable that you'll take a few spills when you first start riding. This is why it is so important to wear motorcycle helmets, folks.

The 300 also has slightly larger tires than the 130mm ones on the 250R. Kawasaki opted to use a 140mm tire on the rear wheel to give the bike a bit more stability - probably to help you avoid those early learner spills. There is also an anti-lock braking system option developed by Nissan that is supposed to be about 40 percent smaller, which also means lighter, than the ABS used in the 250R. In addition to reducing the weight and upgrading the brake system, Kawasaki also took a new approach to the transmission, providing clutch assist for a lighter, easier to handle suspension.

2013 Kawasaki Ninja 300 Image Gallery
(Click for full size images)