2012 AMA National Enduro Gobbler Getter Results
Chaparral Motorsports
|
November 7, 2012
Russell Bobbitt Wins Gobbler Getter
[caption id="attachment_16264" align="alignright" width="300"]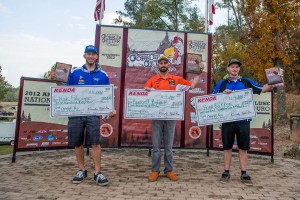 2012 AMA National Enduro Gobbler Getter Winner's Podium - Photo: Shan Moore[/caption]

The 2012 AMA National Enduro Series ended its season this past weekend in Alabama, with Russell Bobbitt taking the motorsports victory after winning three of the six special tests.

Though he got off to a rough start in the first test, Bobbitt bounced back to win the second race after holding the lead from start to finish, Ultimate Motorcycling reports. He then continued his dominance with two more test wins. His only competition was Nick Fahringer, who won two tests for a second-place finish.

"It feels good to finally get the win," Bobbitt told Cycle News. "We made several changes to the bike and I think it made a difference. I felt better on the bike and I was able to flow through the sections a little better."

The win moved Bobbitt up to third place in the final overall standings, 28 points behind Mike Lafferty. Steward Baylor was the final champion, ending the season with a 17 point lead over Lafferty. Baylor, Bobbitt's KTM teammate who previously clinched the championship, was at the track but unable to participate in the race. He broke his collarbone last week and will undergo surgery this month in the hopes of being fully healed in time for the 2013 season opener.

Russell Bobbitt Wins Final National Enduro
[caption id="attachment_16263" align="alignright" width="300"]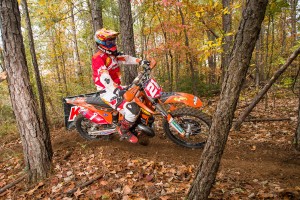 Russell Bobbitt ended his season in the best way possible; capturing the win - Photo: Shan Moore[/caption]

Factory FMF/KTM rider Russell Bobbitt ended his season in the best way possible after capturing the win at the final AMA National Enduro round.

Bobbitt rode strong through all six special tests. Throughout the day, Bobbitt was able to earn three of the six special test wins and held the lead from the second test through the finish.

"I had a really fun time riding today," remarked Bobbitt. "The rain helped keep what was going to be a really dusty race into perfect race conditions. There were a lot of tight sections that I really enjoyed and I am happy to walk away with the win at the end of the season."

The newly crowned National Enduro Champion, Steward Baylor, came out to support his teammate but was unable to participate in the race due to an injury. Baylor will undergo surgery for his injury in the coming weeks in order to heal in time for the start of the 2013 season.

Source: KTM North America

Nick Fahringer Earns 2nd At Final National Enduro
[caption id="attachment_16261" align="alignright" width="300"]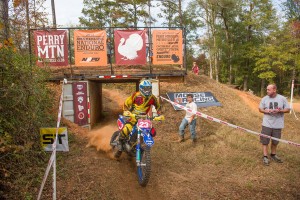 Nick Fahringer finished 2nd overall at the final round of the AMA National Enduro Series.[/caption]

Husaberg Factory rider Nick Fahringer finished 2nd overall at the final round of the AMA National Enduro Series after putting together a remarkable season ending ride. His teammate, Mike Lafferty, finished 4th overall.

Fahringer suffered from arm pump in the first test but quickly recovered and set to work from the second test on. He took the win at the third and sixth test which helped quickly move him through the pack. At the end of six tests he was able to climb into 2nd position and finish on the podium.

His teammate, Mike Lafferty, rode strong throughout the first half of the race and was battling with the lead ride of Russell Bobbitt. Unfortunately, Lafferty had a few bobbles in later sections that cost him valuable time. In the final section he was in a tight battle with Fahringer and Brad Bakken for the 2nd position but came up just short of the fast time. His time in the sixth test pushed him back to 4th overall.

"I am disappointed in my overall performance today," commented Lafferty. "I wish that I could have been on the podium. Despite my finish today, I am happy with my overall result in the series and glad that I could finish 2nd in the point standings."

Source: Husaberg USA

Gobbler Getter Overview And Point Standings
2012 AMA National Enduro Alabama Image Gallery (Click for full size images)


Overall Results



Russell Bobbitt

Nick Fahringer

Brad Bakken

Mike Lafferty

Jesse Groemm

Shane Hufford Jr

Grant Baylor

Andrew Delong

Geoff Braico

Ian Blythe

Final Point Standings - ( Round 10 of 10 )


Steward Baylor - 242 - 2012 Champion

Mike Lafferty - 225

Russell Bobbitt - 197

Nick Fahringer - 173

Jesse Groemm - 147

Brad Bakken - 130

Andrew Delong - 103

Shane Hufford - 96

Cory Buttrick - 94

Charlie Mullins - 77