Top Gear Stunt Team Completes A Double Loop
Chaparral Motorsports
|
November 2, 2012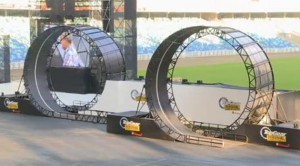 The Top Gear Live Stunt Team, known for its daring bike tricks, completed the first ever double loop-the-loop on a motorcycle earlier this week. Rider Gary Hoptrough successfully maneuvered the bike on two 26-foot loops, according to Motorcycle.com.

Completing the 720-degree rotation was a world record, and it was done in front of a live audience of 4,000 people in the United Kingdom. Top Gear, which is a popular BBC series, has been putting on live versions of the show around the U.K. and previously performed a similar trick with a buggy - also a world record.

"We started Top Gear in its current incarnation ten years ago as a pokey little motoring show and never dreamt of setting world records," said Jeremy Clarkson, one of the show hosts, as quoted by the source. "It was pretty nerve wracking and spectacular."

The trick was done on a KTM 250 SX-F. The only changes made to the motorcycle was to the suspension dampers, which had been calibrated to meet the intense demands of the stunt. With the stunt now known as a Deadly 720, Top Gear has continued its reputation of having skilled riders and unique stunts.