New Tsunami Motorcycle Exhibit Opens At Harley-Davidson Museum
Chaparral Motorsports
|
October 31, 2012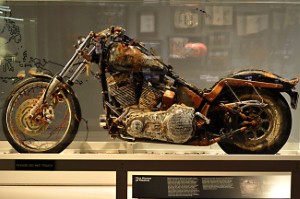 A special motorcycle is now on display at the Harley-Davidson Museum, after making a unique 3,000 mile journey across the Pacific Ocean that took an entire year.

ATV enthusiast Peter Mark thought he was just out for a relaxing cruise on a Canadian beach when he came across a Harley-Davidson motorcycle that had washed up on the shores of a British Columbian island, AutoBlog reports. A wide variety of strange items have washed up onto the Canadian coast, but this motorcycle had a special story - it made its way to North America after being swept away by the tsunami that devastated Japan in March 2011.

Eventually, researchers discovered that the bike belonged to Ikuo Yokoyama, who lost his home in the tsunami. The bike was being stored in a container at the time of the disaster and was swept across the Pacific in its box. Yokoyama requested that the bike be left in its condition and put on display as a memorial to those whose lives were affected by the tsunami.

"We are truly humbled to display Mr. Yokoyama's motorcycle," said Bill Davidson, vice president of the museum. "This motorcycle has an amazing story to tell, and we are honored to be able to share it."

The Harley-Davidson Museum in Milwaukee, Wisconsin, is home to a variety of exhibits featuring classic bikes and motorcycle apparel, and the amazing story of Yokoyama and his motorcycle will now join those ranks.