Motorcycle Maniac: 2012 KTM 690 Duke - A Street Bike Fit For Royalty
Chaparral Motorsports
|
October 26, 2012
[caption id="attachment_16021" align="alignright" width="300"]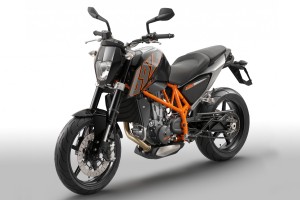 I recently test drove one of these sporty bikes, and I must say I was quite impressed - Photo: Mitterbauer H.[/caption]

If you've ever watched an off-road motorcycle race, you're probably familiar with the KTM brand. The Austrian motorcycle company doesn't just make racing bikes, it has a few street-legal rides as well, including the KTM 690 Duke. With a small, single-cylinder engine, you might not suspect the Duke of being a performance ride, but you'd be wrong. I recently test drove one of these sporty bikes, and I must say I was quite impressed.

The bike itself, in true KTM fashion, is highlighted with the company's iconic orange colors on the chassis as well as the decals and some of the panels. Unlike many other sport bikes, the Duke doesn't overdo it with large paneling that makes the ride look bigger than it is. This motorcycle is pared down, creating a sleek, minimalistic look that is reminiscent of the company's off-road offerings. Plus, this helps keep the bike's overall weight down, which lets you get the most power from the small engine, and improves rider maneuverability. The lightweight frame is made of chrome-molybdenum and only weighs about 20 pounds.

While a single-cylinder motor sounds puny, the Duke's LC4 engine offers an impressive 690 cubic centimeters of displacement as well as plug-selective mapping. The latter feature allows for a smoother, more efficient ride, which aids in reducing the bike's fuel consumption - another plus. The engine's balanced crank drive and twin ignition setup help it generate 69 horsepower, making the Duke one of the most powerful rides in its class. When I rode the bike, I noticed there was far less vibration coming from the motor than I've experienced in similar models. This is due to a balancer shaft, and there's also an anti-hopping clutch that reduced rear wheel chatter while downshifting.

The bike has only been available in the U.S. for a few years, so it might be relatively hard to come across a used model if that's what you're in the market for. Brand new, the Duke is at the top of the price bracket for its class, but if you're looking for a smooth ride and you've got cash to burn, you might want to invest in this model.

2012 KTM 690 Duke Image Gallery
(Click for full size images)