New Superbike Rules Coming In 2013
Chaparral Motorsports
|
October 19, 2012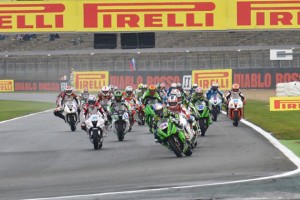 A series of rule changes will alter the look of the FIM World Superbike Championship.

Several of the changes are purely cosmetic, and are aimed at making the racing bikes appear more similar to their street bike counterparts. Headlight decals are now required for the front of the bikes, and the size of the sport bike tires will be decreased from 17 inches to 16.5 inches. According to Moto Matters, the goal of this move is to slow the bikes down as well as to bring superbikes closer to their mass-produced counterparts. However, preliminary testing at Aragon has many of the new machines going as fast as or faster than the old models.

In order to improve safety regulations, new rules will be implemented during wet races. No longer will inclement weather or rough conditions postpone a motorsports round, unless it is a matter of extraordinary conditions or there is an extreme threat to safety. Instead, riders will be able to utilize pit stops. While they still cannot change bikes mid-race like in MotoGP, they will be allowed to change tires or make adjustments to their motorcycle gear, Motorcycle.com reports.

These changes represent a shift from the traditional World Superbike to a new format, with the cause likely stemming from the influence of Superbike's recent partnership with MotoGP. These rules will be in effect for the 2013 season, but beyond that there is a question mark.