MotoGP Releases 2013 Schedule
Chaparral Motorsports
|
October 17, 2012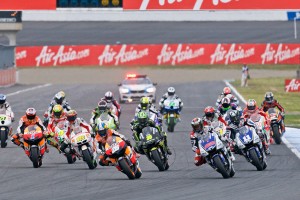 There are still a few rounds left on the 2012 MotoGP circuit, but FIM officials have already released the 2013 race schedule. Only a few minor changes were made from the previous draft of the motorsports schedule.

With 19 rounds, the 2013 season will take riders and fans to 13 different countries, including a new American destination in Austin, Texas. Aside from this addition, the only alteration to the schedule is a date change for the German Grand Prix at Sachsenring. That race was moved up a week to provide additional rest before racers make a cross-continental trip to the United States for the following round.

The only race left to be confirmed is Argentina. The country's circuit is currently undergoing repairs, but officials are confident that the work will be completed in time for MotoGP, according to Moto Matters. However, there is some controversy, as the Spanish government and the oil company Repsol are opposed to traveling to the South American country. If Spain decides to issue a formal warning to Repsol employees, they will not travel and the race will be unable to go ahead.

Despite this unknown, it appears the 2013 schedule is, for the most part, complete. MotoGP fans can look forward to the season kicking off on March 31 and extending through to November 10.