The Dirt Bike Guy - Best Used Dirtbikes: 2011 Husaberg FE 570 Takes The Enduro Cake
Chaparral Motorsports
|
October 5, 2012
[caption id="attachment_15688" align="alignright" width="300"]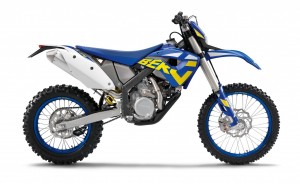 I've been looking at a 2011 Husaberg FE 570 Enduro dual-sport model lately, which really doesn't need a lot of customization at all - Photo: Mitterbauer H.[/caption]

Race-ready dirt bikes do not come cheap, which is why plenty of riders choose used models and load them up with aftermarket parts. Why spend the extra money on a new bike without any custom parts when you can save a couple thousand dollars on the price of the bike and use that money to build the exact ride you want? I've bought a few new dirt bikes over the years, but when I'm looking for a bike, I like to check out my used options first. One bike I've been looking at lately is a 2011 Husaberg FE 570 Enduro dual-sport model, which really doesn't need a lot of customization at all.

This bike had a starting price of about $10,500, without any extras, making it one of the most expensive in its class. Now you can find used models in the $8,000 to $9,000 range, a lot of which already have some modifications. There are a lot of good things to be said about this motorcycle. For example, it comes standard with responsive brakes, a hydraulic clutch for smooth shifting transitions, Metzeler DOT tires and oversized Neken handlebars. The 566cc single-cylinder engine, with its 12.2:1 compression ratio, offers plenty of power so you can fly around the track.

If you hit any big jumps you will be pleasantly surprised how smooth landing is with the WP closed cartridge inverted fork front suspension and rear twin-sided swing arm suspension. The Husaberg's fully adjustable PDS shock absorber lets you tweak your bike to get the exact traction and stability you want. What I really enjoy about this bike is that the performance, stability and handling don't drop off as you reach higher RPMs. They are constant and reliable, which gives me all the confidence I need to hit turns and jumps at breakneck speeds.

When it comes time to pick out a new dirt bike, you may be tempted to choose something new, but if you look for a used 2011 Husaberg FE 570 you'll be doing yourself a favor. The motorcycle is nearly new and still one of the best available models for Enduro riding. There may be new dirt bikes that have a comparable cost to a used Husaberg, but the performance is really unmatched for this line.

2011 Husaberg FE 570 Image Gallery
(Click for full size images)