KTM To Return To AMA SuperBike In 2013
Chaparral Motorsports
|
September 28, 2012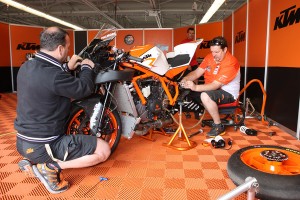 KTM Motorsports will once again partner with HMC Racing to form a Superbike team for the 2013 season. The KTM/HMC Factory Race team will compete in the AMA Pro SuperBike division.

The 2012 season marked the first official year for KTM/HMC. The season can be considered a success thanks in large part to the performance of rider Chris Fillmore, who earned several top-10 finishes to go along with a top-five finish at Infineon Raceway.

Fillmore was joined mid-season by Stefan Nebel, a former IDM Superbike Champion. The German rider had consistent finishes and added some much-needed depth to the squad.

Following the news that the team would be returning next season, KTM/HMC also announced the signing of Fillmore for 2013. He has been affiliated with KTM since 2008 and will act as the lynchpin for the team next year.

"I am excited that we can now also extend the Superbike team for another year while increasing the program to two full-time riders," said team manager Mitch Hansen. "The knowledge we have gained in 2012 will help us tremendously with our program for 2013 and I am looking forward to next season."