Motorcycle Maniac: 2012 Royal Enfield Bullet C5 Classic Chrome Is A Timeless Beauty
Chaparral Motorsports
|
September 27, 2012
[caption id="attachment_15542" align="alignright" width="300"]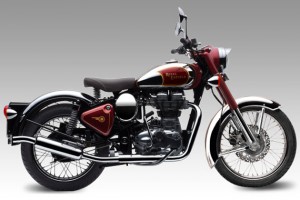 The 2012 Royal Enfield Bullet C5 Classic Chrome transcends time with its old-school styling, but it still has all the amenities of a modern bike.[/caption]

You can usually tell what era a motorcycle came from just by looking at it, but the 2012 Royal Enfield Bullet C5 Classic Chrome might throw you for a loop. This two-wheeled beauty transcends time with its old-school styling, but it still has all the amenities of a modern bike. I recently got the chance to take one of these motorcycles for a test ride, and its performance is nearly as remarkable as its curbside appeal.

Like most other Royal Enfield bikes, the Bullet's appearance is very reminiscent of mid-century British motorcycles, with bold graphics that hail to a post-WWII styling and one large round headlight backed by low-profile handlebars. The fenders, gas tank, air box covers and rear shock absorbers are all made of chrome, making the motorcycle gleam day and night. Royal Enfield offers either a subdued maroon or solid black for the front forks, the headlight backing and the tool box, and the color is complemented by tasteful gold pin striping and lettering. For the seat, the company went with a low-profile solo sprung leather number that really ties the whole vintage look together. The seat is brown for the maroon version, and black to match the black paint job.

While the appearance may be a throwback to the past, the cruiser accessories are, for the most part, top of the line. The 500cc liquid-cooled Single engine is fuel-injected, making the bike ride much smoother than the motorcycles it is designed after. It's not so loud and powerful that it's going to set off car alarms, but this motor still had plenty of oomph to keep me satisfied and turn plenty of heads as I cruised down the street. The handy toolbox Royal Enfield installed on the right side of the bike is a fun perk that adds some extra charm.

There are a few characteristics about the bike that left me wanting more, however. I've gotten used to well-lit digital displays and gauges on modern bikes, but the Bullet only has a barebones setup and the indicator lights can be tough to see when you're in motion. There's also no fuel gauge, which is a bit disconcerting. The company claims Bullet gets an impressive 85 miles per gallon, so you don't really have to worry about running out of gas all of a sudden if you start out with a full tank, but since the indicator lights can be hard to see, I'd be nervous riding around waiting for the low fuel light to come on.

2012 Royal Enfield Bullet C5 Classic Chrome Image Gallery
(Click for full size images)