Motorcycle Maniac: Ducati Offers Sneak Peek Of 2013 Multistrada Family
Chaparral Motorsports
|
September 20, 2012
[caption id="attachment_15448" align="alignright" width="300"]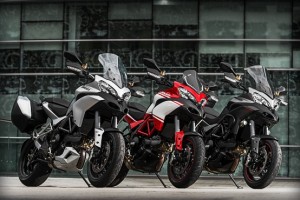 Ducati has done it again with its 2013 Multistrada 1200 lineup.[/caption]

Ducati never ceases to impress me, and the Italian motorcycle company has done it again with its 2013 Multistrada lineup. This includes the standard 1200, the S touring model, the new S Granturismo and the S Pikes Peak, which was released in celebration of Ducati's recent win at the annual mountain race. They're all quality machines, each featuring a second generation Testratta 11-degree engine, eight-level Ducati Traction Control and a sleek, updated look that gives the 1200 and the others models a masculine edge that the previous versions didn't quite accomplish. These dual sport bikes aren't available yet, but Ducati leaked more than enough information to whet my appetite and get me excited for the chance to test drive the 1200.

The Multistradas each have four riding modes to choose from - Sport, Touring, Urban and Enduro - at the touch of a button, as well as the ride-by-wire throttle control that has been a staple of the bike since it was first introduced in 2010. All of the S models are set apart from the standard 1200 by the Ducati Skyhook Suspension (DSS). This is a semi-active system, similar to an electronically adjustable suspension, which means you don't have to manually adjust the setup when you ride off a paved surface onto rougher terrain.

[caption id="attachment_15451" align="alignleft" width="300"]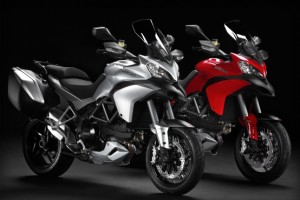 The 2013 Ducati Multistrada 1200 S Touring has a sleek, updated look that gives it a masculine edge.[/caption]

For those who enjoy longer rides, the Multistrada 1200 S Granturismo has been designed to be more accommodating for extra luggage. With an added top case and larger side storage, there's plenty of room for those roadside souvenirs. Plus, you won't have to stop for the night when the sun sets, as Ducati installed additional LED lighting so you can see where you're going. There are even grip warmers, so your fingers don't get too cold when temperatures begin to drop. It sounds to me like Ducati doesn't want its riders to ever get off the bikes, which may very well be the case.

I've heard whispers of rumors that Ducati will unveil the bikes in Cologne, Germany, at the beginning of October. That means they should be available to test drive and swoon over at dealerships by the end of the year. From what the company has revealed so far, I know I will be planning a visit to a Ducati dealer to check these Multistrada models out for myself.

2013 Ducati Multistrada 1200 S Image Gallery
(Click for full size images)