'Meet At The Ace' Festival A Success
Chaparral Motorsports
|
September 20, 2012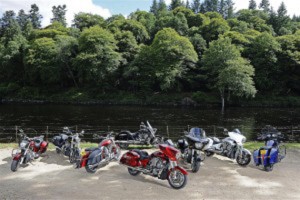 The first Vintage Motorcycle & Scooter Festival in Tacoma, Washington was a success. America's Car Museum started "Meet at the Ace - A Summer Shakedown 2012" as a way to debut the museum's new motorcycle exhibit.

The three-day event featured live entertainment, contests and displays of vintage bikes and gear. A 110-mile ride through the Pacific Northwest to Mt. Rainier closed the festival.

Cycle World reported that classic bikes from well-known manufacturers such as Ducati, Harley-Davidson, BMW, Suzuki and Yamaha made up the collection of about 250 motorcycles at the event. Restored rides like the 1913 Sears of Art Redford and an original 1955 Honda Dream mixed with newer models and unique scooters.

Classic bikes were judged based on their restoration, but other motorcycle-related activities and panel discussions entertained visitors as well.

"The Pacific Northwest has a strong motorcycle and scooter community, which puts this event in a position to become a staple of ACM for years to come," Burt Richmond, vintage motorcycle and scooter promoter, told The Tacoma Weekly. "Our Concours, open to all makes manufactured prior to 1980, is a judged vintage motorcycle and scooter exhibition that will present awards for various classes."