Suzuki Agrees To EPA Fine
Chaparral Motorsports
|
September 19, 2012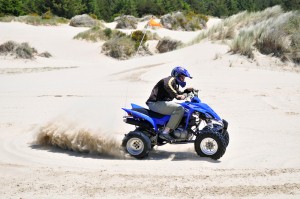 Suzuki's American corporation faces sanctions from the U.S. Environmental Protection Agency for importing ATVs and off-road motorcycles that do not meet EPA standards.

The sanctions were placed on the sales of over 25,000 ATVs from 2006 to 2009 and 62 units of the 2010 RMX450Z off-road motorcycle. These models were originally tested and approved by the EPA, but the tests were done without the knowledge that Suzuki had a racing map option for the vehicles that increases emissions past the standard amount.

"EPA's vehicle emission standards are vital safeguards that protect our nation's air quality," said Cynthia Giles from the EPA's Office of Enforcement and Compliance Assurance. "By taking action to deter the importation and sale of non-compliant engines, EPA is not only protecting people's health, but is also ensuring a level playing field for manufacturers that play by the rules."

Suzuki agreed to pay a $885,000 dollar fine, and in addition the company must take part in three emissions mitigation projects. The company also stopped selling some of its own ATV parts in favor of EPA-regulated options.

Motorcycle.com reports that, in order to improve the environmental impact of the vehicles, Suzuki will revamp its 2013 on-road motorcycles to comply with California's emissions requirements, which are the strictest in the nation.