Weekend Warrior: 2012 Kawasaki Teryx4 750 4x4 - Great For Group Outings
Chaparral Motorsports
|
September 18, 2012
[caption id="attachment_15397" align="alignright" width="300"]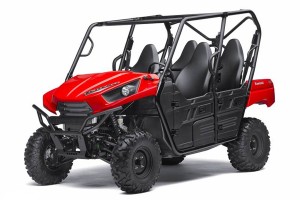 The 2012 Kawasaki Teryx4 750 is an excellent example of the four-seater UTV class.[/caption]

When I take my ATVs out to the trail for a day of riding, there are times I prefer to go it alone, and others when I want to share the experience with my buddies. Side-by-sides are nice, but four-seaters are great too, and the new 2012 Kawasaki Teryx4 750 is an excellent example of this UTV class. Not only does it have room for a cooler and other supplies on back, but the UTV is equipped with a powerful motor that makes it easy to drive the four-wheeler on pretty much any terrain.

When I took the Teryx4 for a test ride, the first thing I noticed was how comfortable it is. This UTV is easily one of the most accommodating rides I've ever had the pleasure of testing. Every seat has a high back and a seatbelt so you're comfortable and safe all at once. The front seats are adjustable for optimal driver comfort and passengers who get stuck in the back won't complain this time. Kawasaki designed the rear seats to be slightly elevated, so rear-seat riders can still see the trail up ahead - a lot like a movie theater. Kawasaki even offers options UTV accessories like cupholders and DC outlets.

As far as power, the 749cc V-twin engine may not seem like enough, since it's the same one used in the two-seater model. But the manufacturer made a few tweaks to ensure the engine would be an ideal fit for the 4x4. For my test drive, it was just me and one passenger, and the Teryx4 has no problem accelerating, but I was told that with a full load, the motor relies on mid-range torque to compensate for the additional weight. The Continuously Variable Transmission and brand new centrifugal clutch definitely help in this situation.

Kawasaki also thought to use larger tires for this UTV - 26-inch [mageProductLink sku="368-2685" title="Maxxis Bighorn 2.0 Radial Rear Tire"]Maxxis Bighorn tires[/mageProductLink], to be exact - the largest available for the class. So, you don't have to worry about getting a flat and winding up stuck because of too-small tires, which is always nice when you're riding with a group. When this UTV becomes available, I may just trade in one of my other rides for this badboy. Right now, when I want to go out riding, I can only take one friend along who doesn't own their own ride. But with this ride, I'd be able to have a party on wheels.

2012 Kawasaki Teryx4 750 4x4 Image Gallery
(Click for full size images)