Tommy Hayden Sidelined After Surgery
Chaparral Motorsports
|
September 17, 2012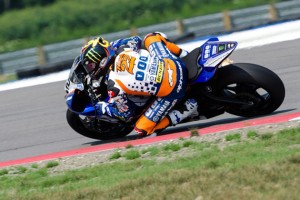 Yamaha's Tommy Hayden will miss the upcoming Big Kahuna SportBike race at Homestead-Miami Speedway. Hayden unexpectedly crashed while racing at the New Jersey Motorsports Park and underwent surgery to help repair some of his injuries.

Water and dirt left on the track caused Hayden's sport bike tires to break loose, eventually launching the rider off the bike. In the ensuing crash he injured his shoulder, broke two bones in his foot and suffered a concussion. The melee also involved Hayden's Yamaha teammate Cameron Beaubier and two other riders, all of whom only sustained minor injuries.

"It sucks when you crash, and it isn't your fault," said Hayden. "I don't know if the corner workers didn't see the water in that corner or not, but hopefully, somebody's looking into that situation and comes up with a plan so something like that doesn't happen again."

Hayden was immediately taken to the hospital for further evaluation, before flying to San Francisco to meet with a top orthopedic surgeon. Doctors had to operate, and a screw was placed in his shoulder to repair the damage while his other injuries were monitored.

Hayden is currently fourth in the standings of the AMA Daytona SportBike Championship. He hopes to rejoin the circuit at the Big Kahuna race in New Orleans next month.