PJ Jacobsen Wins Donington Superstock
Chaparral Motorsports
|
September 14, 2012
[caption id="attachment_15339" align="alignright" width="300"]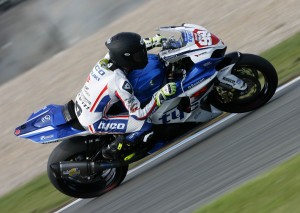 PJ Jacobsen on his Suzuki GSX-R1000 - Photo: Paul Barton[/caption]

American teenager PJ Jacobsen put the new Tyco Suzuki GSX-R1000 on the top step of the podium in thrilling fashion at the Donington Park British Superbike Championship in the National 1000cc Superstock class, taking the victory by a 1000th-of-a-second.

The 18-year-old, who has set the British Championship paddock alight since his debut at Oulton Park in July, won the exciting closely-fought Superstock event on only his third appearance; a credit to his talent and how he has clicked with the Tyco Suzuki GSX-R1000.

PJ Jacobsen:
"That was a very enjoyable race. Lee to his credit was very strong on the brakes but I was way better on the exit of the turns with our set-up on the GSX-R1000. Sitting behind him I was able to see that his bike was moving about on the gas and I knew he'd take a tight entry into the last turn. I knew he'd either get a bit of a high-side or a tank-slapper on the exit, which is exactly what happened. I got good drive and used the curbs and the grass to my advantage. It's a great series and good to see all the other major manufacturers in it, which is making me love riding this big thousand Suzuki. I'm looking forward to Silverstone now."
Philip Neill - Team Manager:
"What a race. We knew this kid had talent, but to come here having only completed a handful of laps at a track day and then win in one of the toughest classes in British Championship is something very special. It was one of the best race finishes I've seen for a very long time, but I wouldn't want to do it that way every weekend. It was the tightest margin possible and every credit to Lee Johnston for a great race, but a win is a win at the end of the day and it's always nice to put the new GSX-R1000 on the top step of the podium.
Metzeler National Superstock 1000cc Results:


PJ Jacobsen [Tyco Suzuki] 24:06.866

Lee Johnston [Ducati] +0.001 sec

Victor Cox [Kawasaki] +7.449 sec

Source: Team Suzuki