The Dirt Bike Guy: 2013 Yamaha YZ250F - Not Much Different Than Last Year
Chaparral Motorsports
|
September 10, 2012
[caption id="attachment_15218" align="alignright" width="300"]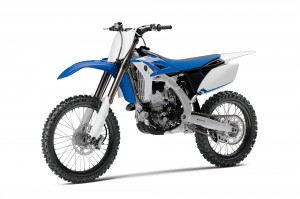 Yamaha didn't really make any major changes to the YZ250F.[/caption]

There are so many new dirt bikes and upgraded models this year, that I was almost surprised when Yamaha released the specs for the new YZ250F motorcycle. The company didn't really make any major changes to this model, which makes some sense, as the bike received some major upgrades last year. However, one has to wonder if it'll still be able to compete when most of the other bikes were overhauled and redesigned for the 2013 model year.

Pretty much every 2013 model has been upgraded to have electronic fuel injection (EFI), but Yamaha chose to stick with the carburetor for the YZ250F. This makes it the only bike in its class that hasn't modernized its engine. EFI has so many advantages because it allows for better engine timing and smoother burns, so you get the most power out of your engine for the least amount of fuel. So why not upgrade? Well, supposedly the 39mm Keihin motor can outperform some of the other engines that do have EFI. But if Yamaha's carbureted engine could do that, just imagine what the company could have achieved had they upgraded the motor.

So what exactly is new about the YZ250F? Well, Yamaha's design team made some stylistic changes. The rear fender, for instance, is white instead of Yamaha's traditional racing blue. Yamaha also decided to make the Pro Taper handlebars black, whereas the 2012 model features silver bars. Exciting stuff, right? The bike also has some new decals that are a bit bolder than they were last year. So if you're thinking about getting a YZ250F, you might as well look into the 2012 model. You get pretty much the same bike but you can save money since you're buying used.

There you have it. There's nothing new to report unless slight design changes rev your engine. The bike still comes in red and white in addition to the Yamaha blue and white color scheme, and pricing has not changed either. So if you really like this bike and you're thinking about buying one, go for a used model. This way, you can use the money you save to purchase aftermarket parts and dirt bike accessories and customize the ride to make it your own.

2013 Yamaha YZ250F Image Gallery
(Click for full size images)