JCR/Honda Extravaganza Invades The 2012 24 Hours Of Glen Helen
Chaparral Motorsports
|
September 7, 2012
JCR/Honda extravaganza invades the 2012 24 Hours of Glen Helen taking home their 4th consecutive win!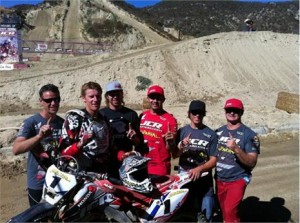 JCR/Honda attacked the 2012 Glen Helen 24 Hour with a race plan extravaganza focused on showing off Honda's unmatched durability and performance.

The Pro class team took home win number 4 in a row with a dominating race performance from Colton Udall, Timmy Weigand, David Kamo, and Ryan Dudek. Timmy holeshot and never looked back logging over 600 miles and 71 laps.

The 40 class was attacked by Manny Ornelles, Brian Sweeney, Ray Sommo, Johnny Campbell, and Brad Oxley who took home the win.

The Ironman class was covered by Brian Adams who had an 18-hour battle before taking control of the race and eventually the Checkered flag

Possible the most exciting classes were the 2 CRF150R teams with 6 of the top young Off-Road Racers on each team. They kept the bikes going for 24 hours straight taking wins in their respective classes and showing everyone that the future of Off-Road racing is bright.

CRF150R Bike #150: Rafa Ordnian, Hayden Hintz, Will Levine, James Butto, Nicholas Baehr and Brett Hart.

CRF150R Bike #151 (Big Wheel): Renton Minuto, Logan Tweet, Trevor Hunter, Jarett Megla, KC Langosh and Wyatt Megla.

"What an amazing weekend. I was very impressed by the CRF150R teams, as the course deteriorated and the sun set they seemed unfazeable and just kept charging. I want to thank the sponsors that went above and beyond to make this extravaganza happen. Dunlop, Renthal, Pro Circuit, DID, IMS tanks and refueling devices, BRP, VP race fuels, and Lucas Oil lubricants. The durability and performance of these products are key to our success. I also want to thank the racers and their families, we had over 50 people involved in this race effort and everyone did their job perfectly. JCR/Honda Pits factory pit crew Captain Chris Boesen of Desert MC provided everything we needed to pull this plan off. JCR technicians Eric Siraton and Mitch Hamm provided the bike prep and were on hand to manage any maintenance issues along the way. I have raced Honda's my whole career and I am still impressed by their durability and performance thank you to American Honda for the support so we can race and win!"
-- Johnny Campbell
2012 JCR Pits Service. Sign up NOW and your on your way to the adventure of a lifetime.

Follow JCR/Honda on Facebook www.Facebook.com/JCRHonda

Follow JCR/Honda on Twitter www.Twitter.com/JCRHonda

Follow JCR/Honda on Instagram @JCRHonda

Source: JCR/Honda