Looking Toward A Big Weekend In New Jersey
Chaparral Motorsports
|
September 7, 2012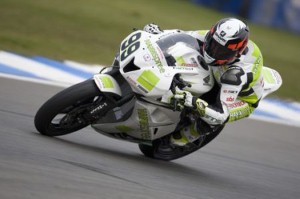 After a month-long hiatus, four AMA Pro Road Racing classes will be back in action this weekend, when the New Jersey Motorsports Park plays host to several tight championship battles.

Competitors in the AMA Pro SuperBike, SportBike and SuperSport classes will all race with the standard doubleheader format, while the Pro XR1200 series will end the event with one winner-take-all finale.

AMA Pro SuperBike and AMA Pro SportBike have a few clear favorites prior to the start of the motorsports event. Josh Hayes is firmly in the lead of the superbike rankings, and the Yamaha racer has won five of the six superbike races held on the New Jersey track. Sportbike rider Martin Cardenas has only one career win on the N.J. raceway, but his 64-point lead might be enough of a cushion to keep him comfortably in the lead no matter what.

"It feels pretty good to be back on track," Cardenas said. "During the break, I rode once at my home in Medellin, but it's not the same as here at the races. So I'm excited."

Meanwhile the supersport races promise a hotly contested battle between Jake Lewis and Dustin Dominguez, both of whom are tied at the top of the standings. A similarly close race is expected in the all-or-nothing XR1200 series, where Kyle Wyman and Benjamin Carlson are separated by less than 10 points.