Weekend Warrior: 2013 Polaris Scrambler XP 850 - Great For Longer Rides And Weekend Trips
Chaparral Motorsports
|
September 4, 2012
[caption id="attachment_15130" align="alignright" width="300"]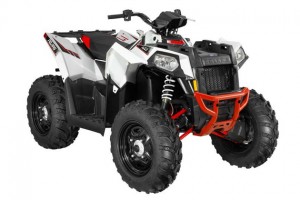 I've been thinking about getting something that would be suited for a one-man trip, so I decided to test drive the 2013 Polaris Scrambler XP 850.[/caption]

Sometimes I enjoy hopping on an ATV and cruising around on closed courses at parks near my house. But when a three-day weekend like Labor Day comes along, I always try to get out for a longer adventure. When I'm going out with friends, my Polaris RZR is great, but sometimes I want to take a solo trip, and that machine's just too big for one guy. I've been thinking about getting something smaller that would be better suited for a one-man trip, so I decided to test drive the 2013 Polaris Scrambler XP 850.

It's classified as an entry level ATV, but the four-wheeler has a pretty substantial power output that makes you forget all about that little detail. Polaris equipped the Scrambler with a High-Output 850 Twin EFI engine that gets 77 horsepower. Plus, the acceleration on this ride means business, as it's anything but sluggish. Aside from sheer power, I also wanted to find a machine that could handle a wilder terrain than worn-in dirt tracks. With all-wheel drive, a high ground clearance and independent rear suspension, the Scrambler offers just that.

The specs alone are enough to sell me on this bike, but what is really tipping the scales in favor of me buying this ATV is that it's made for the exact types of trips I want to take. The bike has dual high/low LED headlights, so I can ride at night if I want to, and it's got two racks where I can store my gear. I usually just throw my tent and other equipment in the passenger seat of my RZR, but if I hit a big bump, everything goes flying. These racks will hold my stuff in place, and they can handle up to 75 pounds of cargo, which is more than my pack weighs.

I do have a few reservations about this ride, however. The overall design is pretty lackluster. Polaris calls it "eye-catching," and they're not wrong. But it's attracting attention for all the wrong reasons. Most other ATVs on the market have a sleekness to them that lets you know they're modern machines, but this looks more like its heyday was decades past. I guess since I'm planning to use the bike where no one else will really see me riding it, this doesn't matter much, but I still have to look at it, so I'm unsure if that will be a deal breaker. Of course there is always the Limited Edition model, which features a stealth black color scheme in addition to its Electronic Power Steering (EPS).

2013 Polaris Scrambler XP 850 H.O. Image Gallery
(Click for full size images)