Motorcycle Maniac: Mission R Is The Fastest, Most Powerful Electric Bike In Existence
Chaparral Motorsports
|
September 4, 2012
[caption id="attachment_15125" align="alignright" width="300"]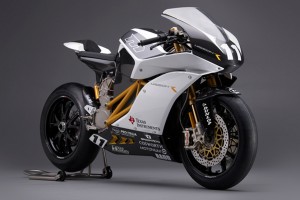 Companies like Mission Motors are bringing about a new age of gas-free motorcycles to the racetrack.[/caption]

Electrified cars and motorcycles are becoming increasingly common, and while battery-powered cars and trucks may be a bit more popular than their two-wheeled counterparts, there's still a market for bikes that don't require gas. Not only are there more options for street-legal electric bikes than ever before, but companies like Mission Motors are bringing about a new age of gas-free motorcycles to the racetrack.

I'm talking about the Mission R, a powerful racing bike that has been tested on and off the track by professional riders. Since the bike isn't publicly available, and probably won't ever be, I haven't gotten the chance to even sit on this one-off electrified motorcycle. But from what I have gathered from seeing this two-wheeled beast in action, the world of motorsports is going to be completely reinvented in the very near future.

This sportbike looks just like any other, but when the engine starts, you know immediately that you're not about to see any old bike race around the track. Instead of the rumbling of sport touring motorcycles or the high-pitched whine of a speed bike, the Mission R sounds like it's straight out of a science fiction movie. Since it's completely electric, it also has zero emissions, which is a bonus if you place a premium on going green.

[caption id="attachment_15123" align="alignleft" width="300"]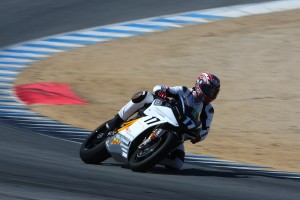 This sportbike looks just like any other, but when the engine starts, you know immediately that you're not about to see any old bike race around the track.[/caption]

The Mission R is not like any electric motorcycle on the market today. It's faster, more powerful and certainly more exciting. It's got 161 horsepower and about 140 ft.-lbs. of torque, which is impressive even for an electric car. Plus, it's got a serious acceleration rate - this bad boy only needs three seconds to reach 60 miles per hour (MPH) from zero. Did I mention it reaches speeds of 160 MPH? I'm fairly certain that there's no electric motorcycles and very few electric cars that can claim anything even close to that.

Mission designed this bike for the track, and the designers equipped it with WiFi and 3G data connectivity so pit crews can tweak the controls without the rider having to stop and manually calibrate. If this is the direction motorcycles are heading, I am pretty excited and I can only hope that one day I'll get the chance to ride the Mission R myself, or at least test out something similar.

Mission R Image Gallery
(Click for full size images)