Motorcycle Maniac: 2012 Ducati Diavel Cromo Lives Up To Its Name
Chaparral Motorsports
|
August 30, 2012
[caption id="attachment_15078" align="alignright" width="300"]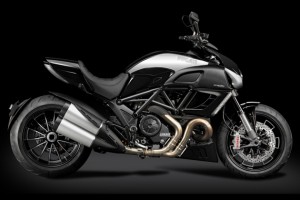 Ducati makes some mean machines, and the 2012 Diavel Cromo is perhaps the most evil in its lineup.[/caption]

Ducati makes some mean machines, and the 2012 Diavel Cromo is perhaps the most evil in its lineup. The name Diavel actually means devil in a local Italian dialect, and this chromed-out masterpiece really lives up to its name in a devilishly good way.

For the second year of Diavel production, Ducati decided to expand the trim selection by adding an AMG version and the Cromo, which is decked out in, you guessed it, chrome. The Diavel Cromo features a chromium-plated fuel tank that matches the exhaust pipe highlights and brilliantly contrasts the glossy black finish of the rest of the bike. This makes the Cromo stand above the rest of the Diavel family, which are still impressive to look at just not as flashy or eye-catching.

The Diavel is certainly not just a fantastic bike to look it. It's also an intense motorcycle to ride, as is the case with most of the Italian manufacturer's bikes. The 1198cc Testastretta engine has a power output of 162 horses and an incredible 94 ft-lbs of torque, even at low RPMs. That power can really be felt thanks to a unique intake/exhaust system and an adjusted cam timing that help you utilize every ounce of power the engine offers. Plus, you can start the engine without ever having to take the key out of your pocket - a feature I really enjoy in modern motorcycles. The electronic key can start the Diavel when you're standing as far as six feet away from the bike, so you can fire up the engine to give people who are admiring your ride too closely a bit of a scare.

What I love about Ducati is that the company uses the same custom traction control system for its commercial bikes as is used on the racing motorcycles. I know some riders only prefer to strap on their motorcycle helmets and ride when the weather permits, but my friends and I don't let a little rain stop us from enjoying the open road. With the Ducati Traction Control, you don't even have to think about how well your bike is gripping the road. The intuitive technology does the legwork for you and adjusts itself to control rear wheel spin. This and other innovative technology like the five different riding mode options make riding a Diavel feel delightfully sinful.

2012 Ducati Diavel Image Gallery
(Click for full size images)