BMW Partners With Bloomingdale's
Chaparral Motorsports
|
August 30, 2012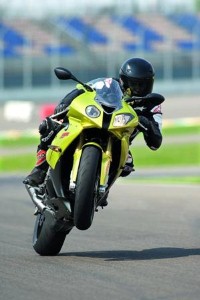 Fall fashion is about to get a whole lot more exciting.

BMW Motorcycles announced that they have entered a partnership with Bloomingdale's autumn fashion campaign. In addition to being featured in photo spreads for the retailer's catalogues, the motorcycles will be a key component of the display at the store's flagship location in New York City.

Bloomingdale's will be using the bikes to help promote its new moto-inspired clothing. Traditional motorcycle apparel such as fingerless gloves, bike jackets and leather accessories are all incorporated into the department store's offerings.

"Partnering with Bloomingdales is a natural extension of the BMW brand as both a cultural and product icon," said James Callahan, a marketing manager at BMW Motorrad USA. "For decades, our bikes have been featured in films, music videos, magazine photo shoots and special events. From James Bond to 'Jay Leno's Garage' and the recent Summer Olympics, BMW motorcycles are seen and ridden 'round the globe."

Bloomingdale's locations across the United States will display the classic R 1200 R motorcycle, and shoppers can enter for a chance to win the bike. A drawing picking the winner will take place on September 17.