The Dirt Bike Guy: 2013 Husqvarna TC250R Leaves The Competition In The Dust
Chaparral Motorsports
|
August 29, 2012
[caption id="attachment_15054" align="alignright" width="300"]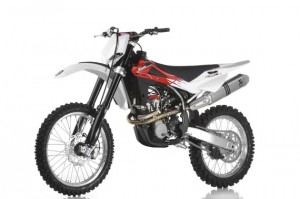 Husqvarna's latest addition to the motocross lineup is the 2013 TC250R.[/caption]

Husqvarna's latest addition to the motocross lineup is the 2013 TC250R. Now, for years this model has gotten a bad rap and been the laughing stock of its class, but this time around Husqvarna is stepping up its game and giving the TC250R a chance for redemption. I'm not talking about just a few tweaks that give the bike a bit of a boost. No, Husqvarna took full advantage of its parent company's technology to design a new engine for the dirt bike

The BMW-owned motorcycle manufacturer ramped up efforts in the power department, which is where the bike was really lacking. Now it's got a brand new piston and cylinder head based on the BMW F1 technology. Instead of the traditional shim-and-bucket valve action, the TC250R's cylinder head has valve finger followers with a DLC coating for smoother, more durable ride. The piston is also lighter and even more free-revving than previous versions.

This isn't the only change that Husky made to the TC250R's engine. The engineers also decided to scrap the Mikuni electronic fuel injection system and replace it with the Keihin EFI. This is great because the new system doesn't need to rely on the battery. The ignition system is now a CDI, or capacitor discharge ignition. This automatic ignition makes it easy to fire up your bike and get out on the track while your buddies are all still trying to get their bikes started. This alone really helps give the new dirt bike a push in the right direction.

[caption id="attachment_15052" align="alignleft" width="300"]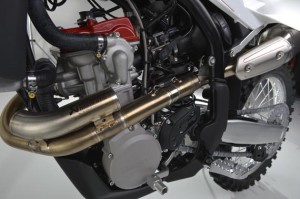 Husqvarna took full advantage of its parent company's technology to design a new engine for the dirt bike.[/caption]

Once you're riding, the bike's new airbox and tweaked velocity stack really showcase the new engine design and give the bike loads of power. If you're used to riding an older TC250 model, you might want to brace yourself since this increase in performance is a bit shocking at first. Speaking of shocks, Husky's new motocross ride uses a Kayaba 48mm closed-cartridge fork and a link-mounted shock that is made specifically for dirt bike racers. This definitely trumps the former Sachs shocks that were just unappealing all around.

Riding the bike makes it easy to tell this isn't the TC250 from the past, but you can already tell something's up when you look at the bike. It's got a brand new chromoly frame that's not only stiffer and stronger than last year's model, but is painted black for a sleek, impressive look that makes you forget the bike used to be one of the unloved models in its class.

2013 Husqvarna TC250R Image Gallery
(Click for full size images)