Big Sky XC Sees Paul Whibley On Top
Chaparral Motorsports
|
August 28, 2012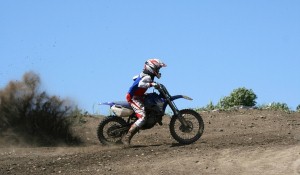 Paul Whibley
put on a show for motorsports fans this weekend, dominating the course to win the fourth annual Kenda Big Sky XC. Whibley, a rider for Am-Pro FMF Yahama, led the field for almost the entire race.

Nearly 50 professional riders took part in the race, which took over three hours to complete. Whibley's winning time was over five minutes faster than second-place finisher Brenden Ritzman. Third place was won by Jordan Ashburn, a fellow Am-Pro FMF Yamaha rider. Bobby Prochnau and Jimmy Jarrett took fourth and fifth place, respectively.

The event took place on the tight ski slopes at Montana's Big Sky resort. Recent dry weather made for dusty conditions around the nine-mile loop, and several other riders didn't have the speed or endurance to keep up with Whibley.

While the New Zealand native led the pack, his closest competitors were jockeying for positions throughout much of the race. The rest of the top five were all within site of each other at the start of the sixth and final lap, and quite a few passes were made before crossing the finish line.

Last week Whibley won his eighth straight race in the OMA Championship, which clinched the title for him with two rounds still to go. It is his fifth OMA title.