South Dakota's Sturgis Rally A Success
Chaparral Motorsports
|
August 24, 2012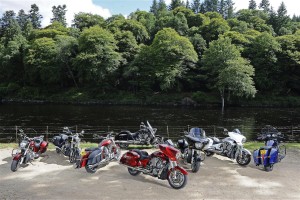 South Dakota played host to the Sturgis Motorcycle Rally from August 6-12, and for the 72nd year the event was a success.

The rally has long been a way for enthusiasts to get ideas about street bike gear and accessories. With sponsors such as Harley-Davidson present, along with over 600 vendors, riders had many opportunities to discuss and develop their bikes while enjoying the week's festivities.

Entertainment included performances by Journey, Sugarland and Zac Brown Band. But it was the bike shows that took center stage, with the 2012 AMD World Championships of Custom Bike Building held during the week. This marks the last year that the championship will be held in Sturgis, as the competition makes the move to Germany in 2013.

The event also featured multiple charity rides. The Legends Ride raised money for the Special Olympics, with a dinner and auction taking place after the 50-mile ride through South Dakota's famed Black Hills. A second charity ride, called the Biker Belles Ride, showcased female riders and was followed up with another auction, massages and seminars.

Top-notch entertainment, competition and a wide variety of activities make the Sturgis Rally a successful event year after year, and 2012 was no different.