Weekend Warrior: 2013 Yamaha Grizzly 550 Is The Most Powerful ATV In Its Class
Chaparral Motorsports
|
August 23, 2012
[caption id="attachment_14866" align="alignright" width="300"]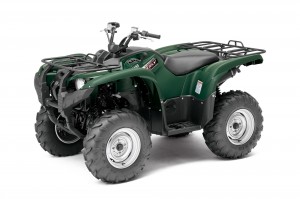 The 2013 Yamaha Grizzly 550 is exceptionally comfortable and built to withstand pretty much any terrain you can throw at it.[/caption]

I love climbing onto an ATV and exploring nature on a powerful four-wheel machine, and the 2013 Yamaha Grizzly 550 is as fun a machine as any for tooling around the woods. The single-rider ATV is exceptionally comfortable, and with room for only one, you don't have to worry about anyone wanting to tag along on your adventure if you're hoping for a bit of solitude. Not only is is comfortable, but this ATV was built to withstand pretty much any terrain you can throw at it.

You can ride uphill, downhill, along the side of a hill, over rocks, through mud and in nearly any other conditions you can think of on this Grizzly. Thanks to a four-wheel independent suspension, you'll hardly notice when you're driving over a really bumpy area. To give you even more control, Yamaha included an easy-to-use On-Command system. All you have to do is touch a button to switch between 2WD, 4WD and differential lock FWD. This makes it so easy to smoothly travel across a variety of terrains without slowing down.

This ATV has a particularly powerful four-stroke engine as well. If the 558cc liquid-cooled motor seems familiar, that's because it's the very same model used in the Grizzly 700, which makes it one of the largest engines in the mid-size 4x4 ATV class. The quad also has an electric starter that lets you fire up the engine quickly so you can get out and get riding quickly and easily.

[caption id="attachment_14867" align="alignleft" width="300"]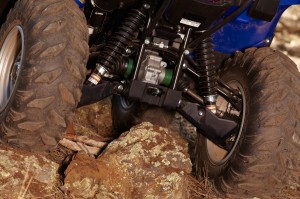 Thanks to a four-wheel independent suspension, you'll hardly notice when you're driving over a really bumpy area.[/caption]

The Yamaha has an impressively high clearance, making it easy to almost forget you have to worry about brush and rocks scraping up the skid plates. Even when you do drive over bushes that the ATV doesn't quite clear, you're not likely to notice when things get bumpy. The rear shocks are gas-powered and have a 9.5-inch travel, so you really won't notice most bumps that stand in your path. There is even an Electronic Powered Steering (EPS) model available, which lightens steering, giving superior comfort and terrain handling ability.

One of the best things about the Grizzly 550 is that this 4x4 is just as powerful as its older brother, the 700, but it costs quite a bit less. If you really want, you can upgrade your ATV accessories to make this midrange ride stand even higher above the competition.

2013 Yamaha Grizzly 550 Image Gallery
(Click for full size images)