The Dirt Bike Guy: 2013 Suzuki RM-Z450 Comes With Major Changes
Chaparral Motorsports
|
August 23, 2012
The 2013 Suzuki RM-Z450 Comes With Major Changes And Upgrades For Better Performance
[caption id="attachment_14845" align="alignright" width="300"]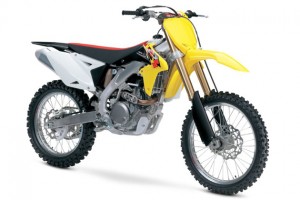 The new Suzuki RM-Z450 hauls, and it's a pretty comfortable ride.[/caption]

The Suzuki RM-Z450is not exactly known for being a lightweight dirt bike. However, despite being one of the heaviest motorcycles in its class, the power behind it makes it feel like you're riding something a lot lighter. For the new model, Suzuki gave the RM-Z450 a brand-spankin'-new suspension that really emphasizes the relationship of the rigidity of the bike to high-speed traction, making it feel safe and comfortable as you tear around the outdoor track.

The engine in the new RM-Z450 is smaller and lighter than previous versions. Plus, it's got plenty of torque so you can really gun it from the starting line. If you're anything like me, you probably like to keep tabs on your engine, and Suzuki made this easy for the new dirt bike, by offering optional motorcycle accessories that help you monitor the situation. The FI indicator keeps track of engine operating times, and is a great way to help you remember when you need a tuneup. A 13 percent lighter piston has a piston pin with a Diamond-Like Carbon surface treatment that is used in the engine for less friction and more durability. Suzuki also gave the intake cam a bit more lift, so you get a lot more midrange power.

I mentioned the new suspension before, but what I left out was that Suzuki used the Showa Separate Function front Fork (SFF), which you may know from the 2012 Kawasaki KX250F. Well, this particular part separates the spring and the damping function by placing the spring in the right leg and the damping cartridge is on the left leg of the SSF. This allows for better shock absorption, less friction and impressive performances in various driving conditions. However, my friend, who's a bigger guy than I am, said he felt the suspension was not tuned for someone of his size, so larger riders who want this bike may need to do a bit of adjusting before it rides just right.

As far as looks go, the motorcycle hasn't changed all too much from the previous model. The rear fender is black now, and there's a shiny aluminum fuel tank that really stands out on the bike. But when you're flying around the track, the way your dirt bike looks doesn't really matter much, especially when things get a bit muddy. The important thing is that the new Suzuki RM-Z450 hauls, and it's a pretty comfortable ride.

2013 Suzuki RM-Z450 Image Gallery
(Click for full size images)