Motorcycle Maniac: 2013 MV Agusta F3 675 - The Ferrari Of Supersport Bikes
Chaparral Motorsports
|
August 23, 2012
[caption id="attachment_14853" align="alignright" width="300"]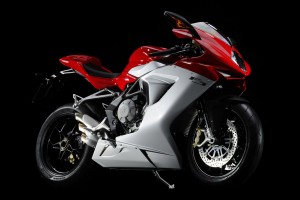 The 2013 MV Agusta F3 675 is a superior machine that makes me long for the days I spent riding super-fast sport bikes at the track.[/caption]

The 2013 MV Agusta F3 675 is a superior machine that makes me long for the days I spent riding super-fast sport bikes at the track. While I might no longer be a speed demon, I still appreciate a powerful motorcycle like the Agusta F3. This middleweight European bike has been on the market for four years, and the latest model is even lighter, faster and more powerful than previous versions.

The three-cylinder engine design that was dreamed up by the late president of MV, Claudio, Castiglioni, is the most notable feature of this motorcycle. Each cylinder of the liquid-cooled Inline Triple has a 13:1 compression ratio, and every valve is titanium, which is just downright cool, if you ask me. Another interesting thing about this engine is that the crankshaft spins backwards. This comes in handy when you're zooming around the track at high speeds, as it helps to maintain the forward inertia so you have more maneuverability. Plus, the engine has four preset maps and one customizable map that you can access on eight different levels.

I haven't personally tried the bike out, since I'm more of a cruiser guy, but I did get to see a friend of mine take it around the track, and boy does that bike fly. It's a bit of a sleeper, since the power in the bottom isn't too showy, but it revs up fast and then you know why it's one of the best motorcycles available.

[caption id="attachment_14854" align="alignleft" width="300"]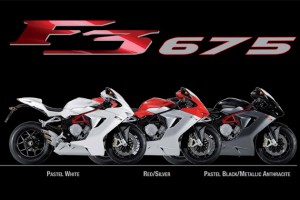 The 2013 MV Agusta F3 675 comes in three color combos with a minimalist approach that makes the bike stand out from the pack.[/caption]

MV is touting the F3 675 as the most beautiful 600 in the world, and it's not hard to see where they're getting their ideas. Most speed bikes have bulky, full-plated body panels that cover everything from wheel to wheel, but the Agusta takes a minimalist approach that helps reduce weight and makes the bike stand out from the pack. It comes in three color combos, pastel white, pastel black with metallic anthracite on the bottom half and red with silver side panels.

This motorcycle is one of the top models to come out in its class this year, and a lot of my biker buddies have been calling it the Ferrari of supersport bikes. I'm inclined to agree, as this bike seems to have it all. Not only is the motorcycle sleek and modern, but it was also designed with performance and balance in mind. The seat is even closer to the handlebars than it is in most other models, so you don't have to feel like you're stretching to get a good, safe grip.

2013 MV Agusta F3 675 Image Gallery
(Click for full size images)