2012 MotoGP Indianapolis Race Results
Chaparral Motorsports
|
August 21, 2012
Jorge Lorenzo Podiums With Second At Indianapolis
[caption id="attachment_14810" align="alignright" width="300"]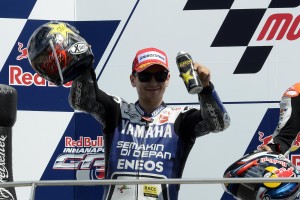 Jorge Lorenzo was back on the podium today, taking second place in the Grand Prix of Indianapolis.[/caption]

Yamaha Factory Racing rider Jorge Lorenzo was back on the podium, taking second place in the Grand Prix of Indianapolis. The Championship leader had struggled all weekend to find an optimum set up, only making a step forward in the qualifying session. Lorenzo, who was one of only two riders to take a gamble on the softer tires for the race, dropped a couple of places from the start then worked to get behind his team mate Ben Spies in second. After the Texan's unfortunate DNF he was promoted to second and began chasing down Pedrosa's lead. Lacking the pace to stay with the leader he settled for second, taking 20 valuable Championship points.

Fellow Factory rider Spies was denied his chance to shine in front of his home crowd following an engine failure early in the race. After a strong weekend with impressive pace Spies made a superb start to the race, flying past pole man Dani Pedrosa to secure the lead on the second lap. Having then allowed Pedrosa past and tucked in behind disaster struck with an engine failure on lap six.

With no time to rest the team now heads back across the Atlantic to Europe for the Grand Prix of the Czech Republic in Brno next weekend. Lorenzo leaves Indianapolis leading the Championship by 18 points, Spies remains in tenth place with 66 points.

Jorge Lorenzo - Position: 2nd - Time: +10.823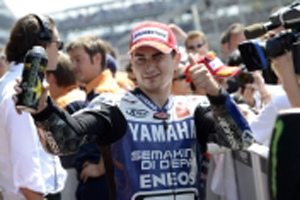 "We thought that the soft tire could finish the race well so we took a risk with it. At the beginning it wasn't so bad and I could follow Ben and Dani. Then Ben had his engine failure which was lucky for my position but I am so sorry for him. Dani was a little step forward today and had a tire advantage in the end. Anyway, second was the best we could do today which is very good for the Championship."
- Jorge Lorenzo
Ben Spies - DNF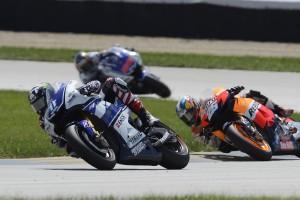 "Today was unfortunate again. We had a big crash yesterday and I honestly didn't know if I could ride at 100% today. I got a lot of sleep and great physio from the clinic guys who did an amazing job. We got off to a good start and felt great, When Dani passed me I could see he was using the rear tire more than I was so the plan was to let him get a maximum three seconds ahead and start reeling him back in at the end. As soon as he passed me the bike started to slow down, I wasn't sure what was happening then all of a sudden it blew up so I tried to get off the line as quickly as possible. I'm disappointed not just for me but for the team, I think we definitely had second place and possibly the win."
- Ben Spies
Wilco Zeelenberg - Yamaha Factory Racing Team Manager
"We're very happy with this second place. It was a very difficult weekend for us, although Saturday qualifying was a big step forward. Second behind Dani was a great result and a good step to the next race. We hope we'll struggle less on the Friday at Brno which should be a better track for us."
- Wilco Zeelenberg
Massimo Meregalli - Yamaha Factory Racing Team Director
"Another tough race, it's difficult to find different words. We will investigate what has happened. From here to the end of the season we must start to have some good luck and I'm sure some good results will arrive for Ben. He has no need to show us anything we can see his speed and talent. We are looking forward to Brno where it could be a great circuit for him. Jorge made his usual intelligent race, he achieved 20 points which are crucial for the standings and he made no mistakes. He delivered the maximum that he could here."
- Massimo Meregalli
Podium Joy For Delighted Andrea Dovizioso At Indianapolis
Monster Yamaha Tech 3 Team rider Andrea Dovizioso's outstanding form in the 2012 MotoGP World Championship continued today, with the Italian collecting his fifth rostrum in seven races in baking hot conditions at the legendary Indianapolis Motor Speedway.

Starting from the front row of the grid for only the second time this season, Dovizioso made a fast start and slotted in behind Ben Spies and Dani Pedrosa in third spot in the early exchanges.

As the race unfolded in front of a crowd of over 65.000 sun-drenched fans, Dovizioso became locked in an enthralling battle with reigning World Champion Casey Stoner.

Stoner grabbed third on lap 10 but a determined Dovizioso didn't let the heroic Australian out of his sights and his relentless pressure finally paid off when he moved back into the top three on lap 22.

Dovizioso was able to streak away from Stoner to consolidate his status as the leading non-factory in the World Championship rankings after today's race didn't have the positive outcome that Cal Crutchlow was hoping for.

The British rider failed to score points for the first time in an impressive second season in the MotoGP class. Crutchlow looked on course to finish inside the top six for the ninth time in 11 races when he latched onto the back of a pack including Dovizioso, Stoner, Bradl and Bautista dicing for third before the halfway stage.

But just as the 26-year-old was sizing up an attack to move into the top six, he lost the front-end of his YZR-M1 machine at Turn 4 on lap 10.

Andrea Dovizioso - Position: 3rd - Time: +17.310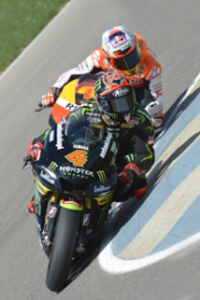 "This podium is once again confirmation of our great work as a team and I am really proud of the support I get from all my crew in the Monster Yamaha Tech 3 Team. For us a podium is always like a victory and of course I'm really happy but I think we still can do better. But honestly I didn't expect to be so strong at this track. Unfortunately I could not push as hard as I would have liked to at the beginning of the race, so I lost a bit of time and could not stay with the leading group. And afterwards when Ben broke the engine I did half of the straight trying to see through the smoke and I was not sure if there was oil on my tyres, so I lost some important tenths. Maybe the position could not have been better but for sure the gap would have been less to Dani and Jorge. I'm not completely satisfied because I wasn't as consistent as I'd hoped, but to be on the podium is a great feeling and a good reward for all our hard work. I also want to pay tribute to Casey today because he delivered a brilliant performance. Physically he wasn't in the best shape but it was still very hard to beat him. Now we got to Brno with a lot of confidence and I'm optimistic that the podium is a realistic target again."
- Andrea Dovizioso
Cal Crutchlow - DNF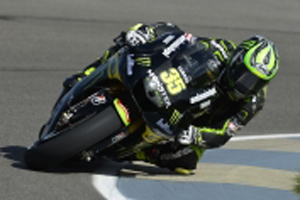 "Unfortunately today was the first time this season I have not finished a race and not been inside the top 10, so it is pretty disappointing. I had exactly the same crash yesterday morning during free practice and I will hold my hands up and say it was a silly mistake. I can't blame the track because it was on the part with the old asphalt. I opened the throttle and lost the front but that was an area we seemed to be struggling with the whole weekend. What is disappointing is that I had fought my way to the back of the group battling for the podium and I was confident with my pace. So to crash out is disappointing and I am sorry to the Monster Yamaha Tech 3 Team because we could have had another strong result. The big positive is I was 1.2s faster than last year on this track and at this level it is not a bad run to go 10 races in a row inside the top 10. I've got a chance to put things right in Brno next weekend and I will be doing my best to be challenging for a top result again."
- Cal Crutchlow
Hervé Poncharal - Monster Yamaha Tech3 Team Manager
"I am running out of superlatives to describe the job Andrea has been doing this season but another podium finish here in Indianapolis is a fantastic result. That is the fifth time in the last seven races that Andrea has been on the podium and this is way beyond our wildest dreams. Honestly I didn't expect us to be on the podium here but Andrea and the whole Monster Yamaha Tech 3 Team did another incredible job. It was a tough race throughout and I have to say big respect to Casey because he showed too today why he is the current World Champion. Andrea had to push at his maximum to beat him but now we can go to Brno hoping that this brilliant run of form can continue. It's really a pity that Cal crashed because he was looking very strong at the back of the group and waiting for the right moment to make his move. It was a small mistake but when you look how consistent and fast he has been in 2012, we can't be too upset. I know Cal will be determined to bounce back quickly from this result and we will be giving him our 100% support to make sure that happens in Brno."
- Hervé Poncharal
Source: Yamaha Racing

2012 MotoGP Indianapolis Results


Circuit Length: 4,186

Temp: 25

Crowd: 65,372

Weather: Sunny

Fastest Lap Ever: 1'38.813 (Dani Pedrosa, 8/19/2012)

Last Years Winner: Casey Stoner

Race 1 Results


Dani Pedrosa: 46'39.631

Jorge Lorenzo: +0'10.823

Andrea Dovizioso: +0'17.310

Casey Stoner: +0'19.803

Alvaro Bautista: +0'22.556

Stefan Bradl: +0'30.072

Valentino Rossi: +0'57.614

Karel Abraham: +1'08.442

Yonny Hernandez: +1'11.106

Aleix Espargaro: +1'14.079

Toni Elias: +1'26.305

Ivan Silva: +1'40.274

Colin Edwards: -1 Lap

James Ellison: -1 Lap

Steve Rapp: -1 Lap

Rider Standings - After Race 11 of 18


Jorge Lorenzo - 225

Dani Pedrosa - 207

Casey Stoner - 186

Andrea Dovizioso - 137

Cal Crutchlow - 106

Stefan Bradl - 94

Alvaro Bautista - 92

Valentino Rossi - 91

Nicky Hayden - 84

Ben Spies - 66

Hector Barbera - 60

Aleix Espargaro - 39

Randy De Puniet - 33

Karel Abraham - 18

Yonny Hernandez - 17

Michele Pirro - 16

Manufacturer Standings - 8/19/2012


Honda - 246

Yamaha - 241

Ducati - 115

ART - 54

BQR - 20

FTR - 16

Suter - 14

Ioda - 9

BQR-FTR - 2

Kawasaki - 1

Team Standings - 8/19/2012


Repsol Honda Team - 393

Yamaha Factory Racing MotoGP Team - 291

Monster Yamaha Tech3 - 243

Ducati Marlboro Team - 175

San Carlo Honda Gresini - 108

LCR Honda MotoGP - 94

Power Electronics Aspar - 72

Pramac Racing Team - 65

Avintia Blusens - 28

Cardion AB Motoracing - 18

Paul Bird Motorsport - 14

NGM Mobile Forward Racing - 14

Speed Master - 13

Came Ioda Racing Project - 9