Weekend Warrior: 2013 John Deere Gator RSX 850i UTV - An Impressive Four-Wheel Experience
Chaparral Motorsports
|
August 20, 2012
[caption id="attachment_14713" align="alignright" width="300"]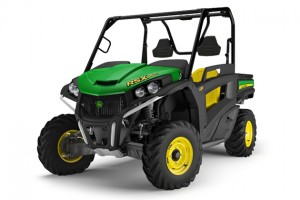 2013 John Deere RSX 850i two-seat side by side is a sporty ride that can handle most any terrain.[/caption]

When most people hear the name John Deere, they probably associate it with farming equipment, but fewer people know the company also produces a line of UTVs known as Gators. The latest model to be added to the ranks is the 2013 Gator RSX 850i. This two-seat side by side is a sporty ride that can handle most any terrain, as it's available in Base, Sport, and Trail trims.

The four-wheel independent suspension may be the reason this UTV is superior to the rest of the lineup, as it makes cornering and driving over extreme terrain a breeze. You get a whopping nine inches of wheel travel with this bad boy thanks to the Multi-Link semi-trailing arm on the rear suspension and a wide-arch dual A-arm in the front. While driving this utility vehicle, you still get jostled a bit, but it's a lot smoother than other ATVs. It doesn't hurt that all trims of the Gator RSX 850i are equipped with high back sport seats. These bucket seats leave you with plenty of legroom, which is great for a tall guy like myself. Plus, nervous passengers will have plenty of ways to stay secure with multiple grab handles.

When it comes to power, the Gator is not lacking, as there is an 839cc V-Twin engine beneath the hood of this side by side. It gets roughly 63 horsepower and about 59.5 ft.-lb. of torque - not bad for a UTV. The torque is perfect for towing dirt bikes out of the mud, too, as it can handle up to 400 pounds of cargo. It's also got a bit of traction control thanks to the ECU, which shuts off automatically when the wheel speed exceeds the vehicle speed. You can also lock the front differential for added traction if you like.

When it comes to choosing between trims, it really depends on what suits you best. Obviously, the base level model is the least expensive. It comes with yellow 12-inch steel wheels and matching bucket seats. The Trail mid-range model has alloy wheels with 26-inch tires, a rear bumper and a Warn winch. The independent suspension only comes standard on the Sport version. When it comes to looks, you can choose between the traditional John Deere green/yellow, Realtree Hardwoods camo and olive/black for the body color regardless of which UTV you want.

2013 John Deere RSX 850i Image Gallery
(Click for full size images)