2012 MotoGP Indianapolis Qualifying 1 Results
Chaparral Motorsports
|
August 18, 2012
Jorge Lorenzo Flies To Indianapolis Front Row
[caption id="attachment_14745" align="alignright" width="300"]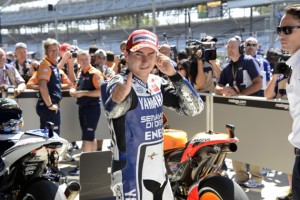 Jorge Lorenzo scored a qualifying time just 0.1 seconds from pole.[/caption]

Championship leader Jorge Lorenzo gave it everything this afternoon in an incident packed qualifying session to take second on the grid for tomorrow's Grand Prix of Indianapolis. Having struggled to find pace all weekend the team made a big step for qualifying, dramatically improving his speed and resulting in a qualifying time just 0.1 seconds from pole.

Team mate Ben Spies continued to show the impressive pace he's displayed all weekend for qualifying. The Texan looked on target for a record breaking pole lap nearly half a second clear until a big high side between T13 and T14. The difficult track conditions at that corner also claimed Casey Stoner and Nicky Hayden with serious crashes. Spies was able to rejoin for the last eight minutes of qualifying but was unable to improve on his time so will start from fourth on the grid tomorrow with a time 0.4 seconds from pole.

Jorge Lorenzo - Position: 2nd - Time: 1.38.913 - Laps: 29
"A really tough weekend so far, I really thought I wouldn't be able to deliver but finally we modified the bike a lot with some weight on the rear to enter the corners with more confidence. I felt great as a result, could lean a lot and open the throttle quickly so I got second and was close to Dani. We don't have a bad pace but not as good as Dani yet, we need to improve a little in the morning."
- Jorge Lorenzo
Ben Spies - Position: 4th Time: 1.39.279 Laps: 26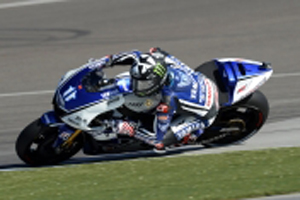 "My shoulder is really sore after that crash, maybe some torn ligaments so it's pretty painful. I'm getting some treatment and we'll see how it is tomorrow. It's frustrating as we've been going really well all weekend and I've been feeling really confident with the bike, I think we could have been on pole. The track surface is pretty tricky at the end there, it seems to have caught a few people today."
- Ben Spies
Wilco Zeelenberg - Yamaha Factory Racing Team Manager
"A very positive qualifying, Jorge found a way to ride the infield better to go with the bike improvements, over a second quicker than this morning. We're happy with the result and the consistency which is important for tomorrow's race so let's see what happens."
- Wilco Zeelenberg
Massimo Meregalli - Yamaha Factory Racing Team Director
"Everything was perfect for qualifying apart from the last 500 meters of Ben's great lap. His rhythm is very good which is important. Unfortunately due to the crash Ben is very sore now and we hope he will be ok to ride tomorrow. Jorge did a great job, they solved the problems and he found his speed so it will be an interesting race tomorrow. It's going to be quite hot so I think the physical condition will make the difference."
- Massimo Meregalli
Front Row For Andrea Dovizioso In Dramatic Indianapolis Qualifying
A Monster Yamaha Tech 3 Team rider will start from the front row of the grid for the fifth time this season after Andrea Dovizioso set the third fastest time in an incident-packed MotoGP qualifying session at the historic Indianapolis Motor Speedway today.

In a session twice red flagged after reigning World Champion Casey Stoner and home crowd favorite Nicky Hayden fell heavily, Dovizioso produced a confident display to secure only his second front row start of the 2012 campaign.

Qualifying took place in gloriously sunny conditions with temperatures reaching close to 25 degrees and Dovizioso started the session confident he could challenge for a top three grid position.

The Italian rider had worked closely with his Monster Yamaha Tech 3 crew to improve grip throughout the weekend and he ended practice this morning in a morale-boosting fifth place after clocking a best time of 1.40.018.

Dovizioso, who is bidding for a fifth rostrum of the season in tomorrow's 28-lap race, was an impressive 0.8s faster in qualifying and his best lap of 1.39.235 clinched his first front row start since the French Grand Prix at Le Mans.

British rider Cal Crutchlow will head the third row of the grid after he qualified in seventh position. A small crash this morning left the 26-year-old in ninth position at the end of practice but he too was able to demonstrate a significantly faster pace in qualifying to lap almost a second quicker.

Crutchlow set a best time of 1.39.549 and he was only 0.112s away from the top five and he is optimistic that he will be in the mix for another strong finish in tomorrow's race.

Andrea Dovizioso - Position: 3rd - Time: 1.39.235 - Laps: 30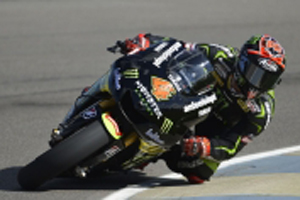 "Honestly I didn't really expect to be on the front row today because Ben and Casey have both been very fast all weekend and I knew it was going to be difficult to finish in front of them. I am sorry for what happened to them but I am really happy to be on the front row because that is always important. It is even more at this track beca use the first section is very tight and it will be important to try and break with the leading group. I'm sure I could have gone a little bit faster but I was just on a new tyre when Nicky crashed and the red flags came out again. I am looking forward to the race now because we have improved the bike in each session and made some really positive progress. I am confident that we can make another step forward for tomorrow but the race is going to be very hard. This track is very slippery and you really have to pay attention and at the end of the race there will be a lot of sliding. I am sure I can fight close to the front to put myself in contention for a strong result."
- Andrea Dovizioso
Cal Crutchlow - Position: 7th - Time: 1.39.549 - Laps: 27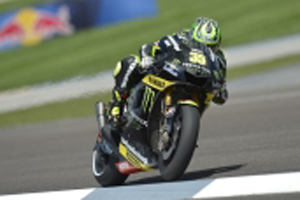 "I'm reasonably happy to be starting from seventh on the grid but obviously it would have been good to be further up the grid. The first couple of corners here are really tight, so you have to be pretty careful to avoid any trouble. If I can get away with those guys at the front I can do a good job but it is going to be a tough battle. There is a big group of guys close together, so there could be some close action out there tomorrow. For qualifying we made some good steps with the set-up of the bike but it was mayhem out there to try and go fast and get in a clean lap. Everybody was holding each other up and you'd waste a lot of time just cruising around trying to get space. That's why I'm seventh but I felt I could have done a better job but I've got no excuses. I've got to get a good start and try and get away with the leading group."
- Cal Crutchlow
Source: Yamaha Racing

2012 MotoGP Indianapolis Qualifier Results





Circuit Length: 4186

Temp: 24

Weather: Sunny

Fastest Lap Ever: 1'38.813 (Dani Pedrosa, 8/19/2012)

Last Years Winner: Casey Stoner




Qualifier 1 Results


Dani Pedrosa - 1'38.813

Jorge Lorenzo - 1'38.913

Andrea Dovizioso - 1'39.235

Ben Spies - 1'39.279

Stefan Bradl - 1'39.437

Casey Stoner - 1'39.465

Cal Crutchlow - 1'39.549

Nicky Hayden - 1'39.748

Alvaro Bautista - 1'40.072

Randy De Puniet - 1'40.437

Valentino Rossi - 1'40.763

Aleix Espargaro - 1'40.803

Yonny Hernandez - 1'41.197

Karel Abraham - 1'41.295

Mattia Pasini - 1'41.370