Colin Edwards To Be Grand Marshall Of The 2012 Lucas Oil Indy Mile
Chaparral Motorsports
|
August 17, 2012
[caption id="attachment_14723" align="alignright" width="300"]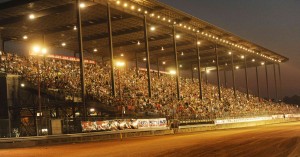 AMA Pro Flat Track will honor Colin Edwards as Grand Marshall for Saturday's Lucas Oil Indy Mile at the Indiana State Fairgrounds - Photo: Dave Hoenig[/caption]

AMA Pro Flat Track will honor Colin Edwards as Grand Marshall for Saturday's Lucas Oil Indy Mile at the Indiana State Fairgrounds. Edwards, the two-time World Superbike champion also known as the Texas Tornado, has competed in MotoGP since 2003 and has led a very successful career in motorsports. He will join festivities and opening ceremonies for the race, part of the AMA Pro Harley-Davidson Insurance Grand National Championship presented by Motorcycle-Superstore.com and Lucas Oil.

Edwards has not only established a solid reputation among young fans for his winning ways on the track; but also as a mentor to promising and aspiring young motorcycle racers. He created his Texas Tornado Boot Camp to be a place where young riders can go to learn the key essentials to become a prominent rider.

Edwards knows something about the value of starting young. His father, Colin Edwards Sr., put him on a mini-bike at the age of three. He entered his first motocross race at the age of four. Ten years later Edwards found himself ranked among the top junior motocross competitors in the USA, winning dozens of races in local, regional, and national events. In Edwards' first season as a pro, he won five of the nine races and eventually won a national title.

Most consider Edwards' biggest racing accomplishment to be his overall victory in the Superbike World Championship aboard a Honda VTR-1000 SP1/RC51 twin cylinder motorcycle in 2000. Edwards came in a close second in the following year but reclaimed the title in 2002 in dramatic fashion, clinching the championship in the final race of the season.

Edwards is looking forward to being a part of the grassroots style of flat track racing and the legendary status of the Indy Mile. Edwards said, "I make my living going 200mph on some of the fastest and most exotic bikes known to mankind, and I'm telling you that I honed my skills and built my fundamentals riding small bikes on dirt tracks right here in Texas."

Dan Johnsen, the Director of AMA Pro Flat Track commented the choice of Colin Edwards to be the Grand Marshall of the Lucas Oil Indy Mile; "I'm very excited to have him here. He's great for the sport and an over-all great competitor. I think this sport needs more people like Colin and the opportunity to have him here at this legendary venue goes a long way for both the fans, and the riders that compete and look up to him."

About AMA Pro Racing

AMA Pro Racing is the premier professional motorcycle racing organization in North America, operating a full schedule of events and championships for a variety of motorcycle disciplines. Learn more about AMA Pro Racing at www.amaproracing.com.
Source: AMA Pro Racing