George Brough's 1922 Motorcycle To Be Auctioned
Chaparral Motorsports
|
August 16, 2012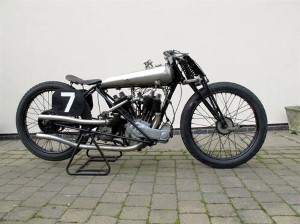 On October 4, George Brough's personal 1922 racing SS80 will be auctioned at H&H Classics in England. The SS80 known as "Old Bill" is considered to be one of the most significant vehicles on two wheels that ever appeared on the market and is expected to come close to the world record price for a motorcycle at auction. The previous record was held by another Brough model - a 1929 Brough Superior SS100 that sold for £280,000 (roughly $440,000). The SS80 is expected to fetch at least £250,000 ($392,000).

Brough, a showman, motorcycle racer, world record holding motorcycle and automobile manufacturer was known for creating the world's first superbikes. The Brough Superiors entered the motorcycle scene in 1919 and collected enough records at various tracks to develop the reputation of being unbeatable, according to RealClassic.co.uk.

The bike being auctioned became part of the Roger Allen Collection in 1988. Allen equipped "Old Bill" with a sidecar to race with his wife, Sue, by his side. After his death, the bike passed to his wife and has been on display at the Nottingham Industrial Museum.

"Old Bill" and other Brough Superiors, honored members of the motorsports world, will be auctioned at Duxford on October 4.