Zach Bell Wins AMA Racing Motocross Horizon Award
Chaparral Motorsports
|
August 9, 2012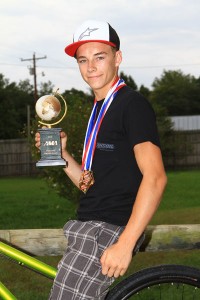 Thirty-six American Motorcyclist Association members have joined the ranks of AMA national champions following a week of intense motocross racing at the AMA Amateur National Motocross Championships at the Loretta Lynn Ranch in Hurricane Mills, Tennessee.

"These riders gave it their all to win an AMA national championship No. 1 plate on the world's biggest stage of amateur motocross racing at Loretta Lynn's," said AMA Director of Racing Joe Bromley. "Once again, event organizer MX Sports delivered an outstanding experience for hundreds of racers across a wide range of age and skill levels, from the stellar track conditions to the closing ceremonies."

One of the most impressive riders of the week was AMA Racing Motocross Horizon Award winner and Honda rider Zach Bell from Cairo, Georgia. Bell swept all three motos in the 250 A class and finished third in the Open Pro Sport class, winning the final moto.

"It's a great feeling," Bell said. "I've worked all my life to get to this point, and I wanted to make my last year my best year. I came out with the Horizon Award and now it's time to move to the pro ranks. Amateur ranks were fun, but now it's time to move on and see what we can do at the pro level."

Bell will go pro this season, finishing out the year in the Lucas Oil AMA Pro Motocross Championships in the 250 class, but he says he'll always have good memories of his amateur career.

"You always have fun out there (at Loretta Lynn's)," he said. "The fans are great. The track is awesome."

Bell has some simple advice for youth riders hoping to follow his tracks to the pros.

"Put yourself in a good position to get a good ride, work out to stay in shape, do your motos, keep your fitness strong, and stay focused on your goals," he said.

The AMA Racing Youth Motocrosser of the Year is Kawasaki Team Green rider Adam Cianciarulo. Cianciarulo, from Port Orange, Florida, dominated the Supermini 1 (12-15) class and Supermini 2 (13-16) class, winning all six motos. The two titles gave Cianciarulo a total of 11, tying him with Loretta Lynn's legends Mike Alessi and James Stewart in career amateur motocross titles.

In the Vet ranks, Robbie Reynard claimed the AMA's top Vet honors. Reynard, from Oklahoma City, Oklahoma, won the Vet 35+ title and finished third in the Junior 25+ class.

"I have been attending the AMA Amateur National Motocross Championships as a rider or an official since the 1970s," said AMA Motocross Manager Kip Bigelow, who competed in the Masters 50+ class this year. "This was, without question, one of the most exciting and electrifying AMA Amateur National Motocross Championships ever. From Zach Bell's Horizon Award to the return of Ricky Carmichael, who has achieved unmatched status in the pro ranks yet came back to chase another AMA national No. 1 plate in the Junior 25+ class, this year will be remembered for a long time."

Carmichael's return was a highlight for both competitors and fans alike. Carmichael, who retired four years ago as the most prolific champion in the history of AMA Pro Motocross competition, won all three of his Junior 25+ motos handily. The Havana, Florida, rider did not go unchallenged, however. Reynard caught and passed Carmichael on the opening lap of the third moto before Carmichael re-claimed the lead.

Another notable finish by a former pro champion was Masters 50+ winner Gary Semics from Salem, Oregon. Semics, who was the 1974 AMA Supercross 500cc champion, swept all three motos to take the Masters title.

History was also made by Utah's Pierce Brown, who won the first 65cc AMA national title for longtime 50cc class powerhouse Cobra. Brown won all three motos to sweep the 65 (7-9) Stock class, beating out California's Stilez Robertson and Michigan's Jace Kessler.

Former factory Yamaha rider Doug Dubach of California claimed his ninth AMA Amateur National Motocross title after winning four of the six motos he entered. Dubach won the Senior 45+ championship over Michigan's John Grewe and then wrapped up the Senior 40+ title with a 3-1-1 moto score over Connecticut's Michael Treadwell. Finishing third in the Senior 40+ class was multi-time AMA Hare & Hound National Champion Destry Abbott.

A full list of the 2012 champions from the AMA Amateur National Motocross Championships is below. For complete results from the week of racing, see www.mxsports.com.

The AMA Amateur National Motocross Championships are one of the longest-running amateur motorsports championships in the country. The AMA launched the national championship program in 1975. That year, a series of regional races qualified riders for the amateur championships, featuring 125cc, 250cc and open classes, held in Baldwin, Kan., and the youth championships, featuring 65cc, 75cc and 105cc classes, held in Pittsburg, Kansas.

MX Sports has organized the AMA Amateur National Motocross Championships since 1982, when the event moved to its current location at the Loretta Lynn Ranch in Hurricane Mills, Tennessee. There, every summer, it crowns the country's top amateur motocross racers. A list of past champions includes such superstars as Carmichael, Stewart, Jeremy McGrath, Travis Pastrana, Kevin Windham, Ryan Dungey, and more.

2012 AMA National Motocross Champions


250 C Mod: Garrett Schnepp - American Canyon, CA

Vet 35+: Robbie Reynard - Oklahoma City, OK

Mini Sr (12-14) Mod: Justin Hoeft - Castaic, CA

250 B Stock: Cooper Webb - Newport, NC

85 (9-11) Modified: Jordan Bailey - Orlando, FL

250 A: Zach Bell - Cairo, GA

51 (7-8) AMA 2 Stock: Jaiden Taylor - Lansing, MI

51 (4-6) AMA 1 Stock: Ryder Difranceso - Bakersfield, CA

51 (4-6) Stock Limited: Codee Samples - Maypearl, TX

51 (4-6) Shaft Drive Stock: Braxton Brown - Lowell, OH

450 C: Cody Herzog - Scappoose, OR

65 (10-11) Stock: Conner Mullenix - Santee, CA

450 B Stock: Matt Bisceglia - Weatherford, TX

65 (7-9) Stock: Pierce Brown - Sandy, UT

Super Mini 1 (12-15): Adam Cianciarulo - Port Orange, FL

Open Pro Sport: Jesse Wentland - Elk River, MN

Schoolboy 1 (12-16) B/C: Jordan Smith - Belmont, NC

College B/C (16-24): Gregory Gehrer - Wichita, KS

Senior 45+: Doug Dubach - Tustin, CA

Masters 50+: Gary Semics - Salem, OR

85 (9-11) Stock: Jordan Bailey - Orlando, FL

Girls (12-15): Brandy Richards - Lake Havasu City, AZ

Girls (9-11): Jazzmyn Canfield - Deltona, FL

Junior 25+: Ricky Carmichael - Havana, FL

250 C Stock: Axell Hodges - Encinitas, CA

250 B Mod: Matt Bisceglia - Weatherford, TX

Mini Sr. (12-14) Stock: Justin Hoeft - Castaic, CA

Vet B/C 30+: Dustin Walker - Lexington, KY

Women (14+): Taylor Higgins - Mesquite, TX

450 B Mod: Anthony Rodriguez - Cairo, GA

450 A: Zach Williams - Elko, MN

Super Mini 2 (13-16): Adam Cianciarulo - Port Orange, FL

65 (7-11) Mod: Carson Mumford - Simi Valley, CA

Senior 40+: Doug Dubach - Tustin, CA

Two-Stroke (16+): Mike Sleeter - Murrieta, CA

Schoolboy 2 (13-16) B/C: Troy Graffunder - Wheatland, CA

About the American Motorcyclist Association

Since 1924, the AMA has protected the future of motorcycling and promoted the motorcycle lifestyle. AMA members come from all walks of life, and they navigate many different routes on their journey to the same destination: freedom on two wheels. As the world's largest motorcycling rights organization, the AMA advocates for motorcyclists' interests in the halls of local, state and federal government, the committees of international governing organizations, and the court of public opinion. Through member clubs, promoters and partners, the AMA sanctions more motorsports competition and motorcycle recreational events than any other organization in the world. AMA members receive money-saving discounts from dozens of well-known suppliers of motorcycle services, gear and apparel, bike rental, transport, hotel stays and more. Through the AMA Motorcycle Hall of Fame, the AMA honors the heroes and the heritage of motorcycling for future generations. For more information, please visit AmericanMotorcyclist.com.
Source: American Motorcyclist Association