Bill Introduced To Reopen Riding In California's Clear Creek Area
Chaparral Motorsports
|
August 6, 2012
[caption id="attachment_14516" align="alignright" width="300"]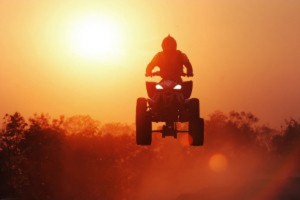 Some 70,000 acres of public land in California that has been off-limits to off-highway-vehicle riders since 2008 could reopen.[/caption]

Some 70,000 acres of public land in California that has been off-limits to off-highway-vehicle riders since 2008 would reopen under legislation introduced by U.S. Rep. Sam Farr (D-Calif.), the American Motorcyclist Association reports.

On Aug. 2, Farr introduced a H.R. 6286 that would designate the popular Clear Creek Management Area near Hollister -- which is controlled by the U.S. Bureau of Land Management -- as a National Recreation Area. If the bill becomes law, it would provide for recreational access to the land as allowed under the BLM's 2005 travel management plan.

The 70,000 acres have been closed to the public -- including OHV riders and hikers -- since May 1, 2008, because of fears over health dangers posed by naturally occurring asbestos in the soil. The land has remained off-limits, even though a later study showed that the health risk to motorcyclists from naturally occurring asbestos is minimal.

The San Benito County Board of Supervisors has been at the forefront of the movement to reopen the popular OHV area, petitioning Congress to consider Clear Creek a National Recreation Area that would allow motorized and non-motorized recreation.

Western Representative Don Amador of the BlueRibbon Coalition, a national trail-based recreation group, has also been hard at work in an effort to reopen the land.

"It's very rare for legislation to be introduced in Congress to open riding areas to riders," said AMA Western States Representative Nick Haris, who has worked with Amador on the issue. "Rep. Farr and the San Benito County Board of Supervisors deserve the thanks of all OHV enthusiasts for their efforts. And I personally want to thank Don Amador for his tenacious work in this area.

"With the elections coming up, I think it's very important for California OHV enthusiasts to ask political candidates where they stand on this proposal," Haris added. "We need to hold them accountable on this issue."

About the American Motorcyclist Association

Since 1924, the AMA has protected the future of motorcycling and promoted the motorcycle lifestyle. AMA members come from all walks of life, and they navigate many different routes on their journey to the same destination: freedom on two wheels. As the world's largest motorcycling rights organization, the AMA advocates for motorcyclists' interests in the halls of local, state and federal government, the committees of international governing organizations, and the court of public opinion. Through member clubs, promoters and partners, the AMA sanctions more motorsports competition and motorcycle recreational events than any other organization in the world. AMA members receive money-saving discounts from dozens of well-known suppliers of motorcycle services, gear and apparel, bike rental, transport, hotel stays and more. Through the AMA Motorcycle Hall of Fame, the AMA honors the heroes and the heritage of motorcycling for future generations. For more information, please visit AmericanMotorcyclist.com.
Source: American Motorcyclist Association