BMW To Launch HP4 Bike
Chaparral Motorsports
|
August 2, 2012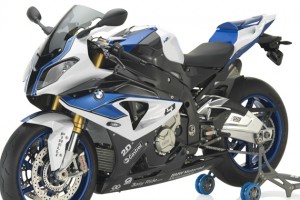 The BMW S1000RR is already one impressive sports bike, but the German manufacturer has never been one to rest on its laurels. The company recently announced it would be releasing a high-performance version of the S1000RR known as the HP4.

BMW's "HP" (for high-performance) line of motorcycles has been around for several years, but the models have not really caught on all that well, mainly due to their high price tag. Yet increasing the performance capabilities of the company's most powerful model will definitely turn some heads.

According to Autoblog, the new HP4 will crank out 193 horsepower and 82 foot-pounds of torque. Those familiar with the S1000RR might realize those are the same numbers. Yet the HP4 is a much lighter bike, weighing 371 pounds dry, meaning that power goes much further. What's more, the company says every bit of that power is available in all traction control modes, so buyers won't have to sacrifice power for handling.

Where they may have to sacrifice is in their wallets, however. With the bevy of features added to an already expensive bike, don't expect the new HP4 to be all that cheap when it hits dealerships later this year.