Casey Stoner Takes Laguna Seca
Chaparral Motorsports
|
August 1, 2012
[caption id="attachment_14442" align="alignright" width="300"]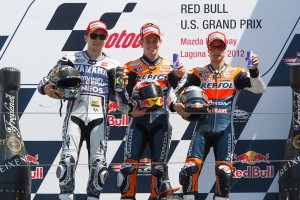 Casey Stoner, Jorge Lorenzo, and Dani Pedrosa on the 2012 MotoGP Laguna Seca Winner's Podium.[/caption]

Proving he's not out of the running quite yet when it comes to the MotoGP crown, Australian Honda rider Casey Stoner executed an expert pass of points leader Jorge Lorenzo to win the U.S. Grand Prix at Laguna Seca.

Stoner trailed Lorenzo for most of the race, but kept close enough to the Yamaha rider that he was able to slip by when the time was right. That moment came on the 22nd lap, when Stoner went inside on the first turn. From there, nobody could catch the rider.

Ultimately, the win may have been due to Stoner's choice of tires for the race. While all of the other top riders went with a hard compound for the rear tire, Stoner decided to use a soft mixture that gave him a bit more speed - at the expense of durability. However, the Australian rider expertly managed the wear on the tire so he lasted the whole race.

The win was Stoner's fourth of the year and third at the U.S. track, where he won last year as well. With the victory, Stoner moved a bit closer to Jorge Lorenzo in the point standings. Stoner is still in third with 173 points to Lorenzo's 205. Stoner's teammate Dani Pedrosa finished third to maintain his second position in the point standings at 182.