The Dirt Bike Guy: The 2013 KTM 350 SX-F Dirt Bike Is Every Rider's Dream
Chaparral Motorsports
|
August 1, 2012
[caption id="attachment_14453" align="alignright" width="300"]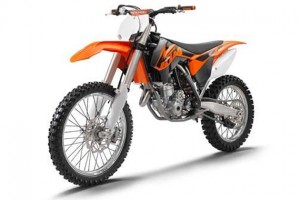 The 350 was designed as a crossbreed of the 250 and 450 dirt bikes for better handling and power than either could offer.[/caption]

Just two years into production, KTM has already made a few major changes to the 350 SX-F that will give the competition a run for its money. The 2013 350 SX-F was designed as a crossbreed of the 450 and 250 dirt bikes for a better combined handling and power than either of its siblings could offer. This motorcycle responds well on the track - it handles both the turns and the straightaways fantastically. Plus it was designed after the 450 SX-F that Ryan Dungey rides - the bike is done in orange with similar decals and styling.

The bike's engine is completely revamped over last year's model. KTM switched over to a die-cast housing that reduced the engine weight. They've also included the newest electronic fuel injection system and modified the cylinder heads to allow for a better gas flow and improved cylinder charging. Another cool upgrade KTM decided to include with the 2013 350 SX-F is the factory crankshaft. The very same crankshaft used for bikes like Dungey's is featured on the 350 as well. This means the part will last longer than a stock crankshaft, and it gives the speed and power a bit of a boost - five horses, to be exact

[caption id="attachment_14456" align="alignleft" width="200"]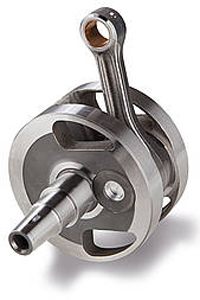 Another cool upgrade KTM decided to include with the 2013 350 SX-F is the factory crankshaft.[/caption]

KTM also addressed rider complaints about the suspension on previous models. The bike uses an upside-down fork with closed-cartridge technology for the rear suspension that prevents you from getting too jostled when things get bumpy. The aluminum swingarm got a bit of an upgrade, so you get a bit more rigidity in the rear. As far as the front wheel suspension goes, KTM switched to a lighter fork oil and used triple clamps to secure the fork. The front suspension has a specially tuned spring rate, too. Not too shabby, KTM.

While the bike gives a dynamic performance on the track, it's certainly not perfect. There's quite a bit of vibration, which can be distracting and downright uncomfortable. However, I've heard from other riders that all it takes to deal with this is installing some dirt bike accessories - a set of rubber bar mounts will do the trick. I only got to ride this bike for one day, and by the end of my time at the track, the air filter already needed to be changed. If you're not a big fan of everyday maintenance, this may not be the bike for you. However, changing this filter out is a breeze and definitely worth the effort for such a fun ride.

2013 KTM 350 SX-F Image Gallery
(Click for full size images)