2012 AMA Pro Road Racing Laguna Seca Results
Chaparral Motorsports
|
July 31, 2012
Train Kept A Rollin': Hayes Breaks GEICO Motorcycle AMA Pro Road Racing Record in National Guard SuperBike at the Red Bull U.S. Grand Prix
[caption id="attachment_14402" align="alignright" width="300"]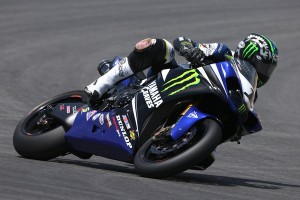 Josh Hayes established a new single-season record with his eighth win in a row at Laguna Seca - Photo: Brian J. Nelson[/caption]

Josh Hayes established a new single-season record for consecutive AMA Pro National Guard SuperBike victories with a crushing performance to secure his eighth in a row on Sunday at Mazda Raceway Laguna Seca.

The defending two-time champion was once again in a class of his own as he notched up yet another dominant victory. The Monster Energy Graves Yamaha superstar pulled his rookie teammate, Josh Herrin, clear of the chasing pack in the race's early stages before breaking Herrin's pursuit as well by lap 5 of the 23-lap affair.

Once free Hayes put it in cruise control early and still managed to take the checkered flag with a 9.084-second margin of victory.

The Mississippian continues to stake his claim in the GEICO Motorcycle AMA Pro Road Racing record books. In addition to the historic win streak, Hayes has now notched up 11 victories this season, just one shy of Mat Mladin's all-time record with six races still remaining on the '12 slate. Sunday's victory also sees Hayes move into a tie for third place on the all-time SuperBike wins list at 28, tying three-time champion Ben Spies, who was in attendance to watch Hayes' conquering ride following the day's MotoGP World Championship race.

"Good things are happening right now," Hayes said. "I'll ride the train as long as I can. If I get into a battle in a hard race, you're going to see me fighting for it for that individual race; it has nothing to do with streaks or race wins or anything like that. It's for that race win. I'm in a position where I can try for every single one of them. I don't have anything to worry about. I've got a points situation that I don't even think about at this point in the season. I'm just focused on winning every race that I can. If I toss one down the road -- or two down the road -- then I'll reevaluate how I'm going to approach it. But, right now, I just want to win everything.

"I'm still riding like I have a little bit of a chip on my shoulder. I still remember last year very clearly. I remember if more clearly than I remember winning eight races in a row. It seems like things have happened pretty quickly and it doesn't feel like that to me. I'll just keep focusing, and trying hard, and pushing myself."

While Hayes was out of reach, the battle for second still proved to be a thrilling affair. Herrin's early tow saw him race out to an immediate three-second advantage over a heated scrap for third, which involved National Guard Jordan Suzuki's Roger Hayden, Yoshimura Suzuki's Blake Young, Jordan Suzuki's Ben Bostrom, Team Amsoil/EBR's Geoff May and Team Hero EBR's Danny Eslick.

[caption id="attachment_14398" align="alignleft" width="200"]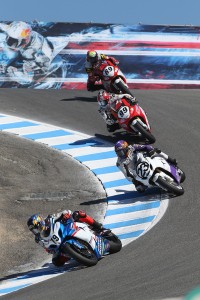 The battle for second proved to be a thrilling affair, with Blake Young ultimately on top - Photo: Brian J. Nelson[/caption]

As Hayden went backwards and fell from the fight, Herrin faded as well and fell into the clutches of Young and company.

The race's final lap saw Young and Herrin trade second position multiple times with hard and tight passes. The nod ultimately went to Suzuki ace Young by a scant 0.023 seconds, thanks to a superior drive out of the final corner in the sprint to the flag.

Young said, "It was a pretty good race for us today. I was making it harder on ourselves by not having great qualifying. It seems like we've let it slip a little bit this year, and I'm just finding myself getting it together at the beginning of the weekend, but I guess the good thing is, we definitely get it together by the end of the weekend in time for the race. I'm obviously happy with second, but I want to get back up to the front and get racing with Josh where I feel we belong.

Herrin said of his late duel with Young, "It was a great last lap -- it was fun. I wish I could have held him off but I just couldn't. He kind of outsmarted me there a little bit. We'll be back at the next race to try to beat him next time."

Eslick and Bostrom finished just fractions of a second behind in fourth and fifth, respectively.

After running as high as third, May dropped to a lonely sixth at the flag, while Riders Discount Vesrah Suzuki's Taylor Knapp also managed to work past the struggling Hayden, who ultimately finished a disappointing eighth on the heels of his Mid-Ohio breakthrough and subsequent strong weekend form here at Laguna Seca.

KTM/HMC Racing's Stefen Nebel won out in a fight for ninth with Foremost Insurance Pegram Racing's Larry Pegram, who completed the race's top ten.

Hayes continues his march to a third AMA Pro National Guard SuperBike title as he'll head to New Jersey Motorsports Park on September 7-9 boasting an imposing 74-point advantage.

Source: AMA Pro Racing

Beaubier Takes AMA Pro GoPro Daytona SportBike Victory at Mazda Raceway Laguna Seca
[caption id="attachment_14397" align="alignright" width="300"]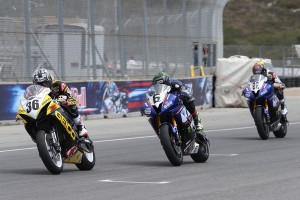 Cameron Beaubier won a fantastic three-way fight, besting series points leader Martin Cardenas - Photo: Brian J. Nelson[/caption]

Cameron Beaubier won a fantastic three-way fight for another GEICO Motorcycle AMA Pro Road Racing victory at Mazda Raceway Laguna Seca, taking his fourth victory in the past five races in the AMA Pro GoPro Daytona SportBike class with a bold last-lap move over series points leader Martin Cardenas. The Y.E.S./Graves/Yamaha pilot battled for 20 laps with his teammate Tommy Hayden as well as Cardenas in a real thriller.

Beaubier showed Cardenas a wheel on several occasions, but the Colombian did not give the young challenger any opportunity to pass heading into the final lap. The young standout made a move to the outside of turn one, an unlikely passing area, then surprised Cardenas on the inside of turn two and made the move stick. Cardenas was able to hold off the charging Hayden but couldn't counter Beaubier in the final turn or the run to the line.

Beaubier's margin of victory was 0.092 over Cardenas and 0.425 over Hayden.

"Martin made a little mistake coming out of the last corner and I was able to pass him into two," said Beaubier. "I was riding a little impatient in the middle of the race, trying to get around Tommy and showing Martin a wheel here and there. I felt like I could get in there pretty good but to tell the truth I did not plan that move. I saw the opportunity."

[caption id="attachment_14401" align="alignleft" width="300"]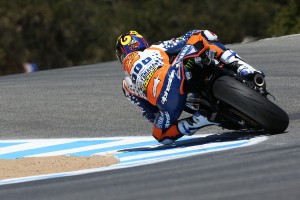 Tommy Hayden took third, and is now tied for third in the points standings - Photo: Brian J. Nelson[/caption]

Jake Zemke took fourth place, just 2.555 seconds back as the Ducshop Ducati rider once again ran a strong race.

Jake Gagne of Roadrace Factory/Red Bull earned fifth. The young rider has recovered from arm pump surgery and had a trying race but was able to finish even after a collision with second place points man Dane Westby, who had highsided just in front of him.

Cardenas now leads Westby by 64 points in the GoPro Daytona SportBike point standings, 314-250, with Beaubier and Hayden tied for third 16 points back at 234 a piece.

Source: AMA Pro Racing

Laguna Seca Overview And Point Standings
2012 AMA Pro Road Racing Laguna Seca Image Gallery (Click for full size images)


SuperBike Results



Josh Hayes

Blake Young

Josh Herrin

Danny Eslick

Ben Bostrom

Geoff May

Taylor Knapp

Roger Hayden

Stefan Nebel

Larry Pegram

SuperBike Class Standings - ( Round 8 of 11 )


Josh Hayes - 415

Blake Young - 341

Josh Herrin - 246

Roger Hayden - 217

Geoff May - 205

Larry Pegram - 193

Danny Eslick - 165

Ben Bostrom - 162

Chris Clark - 152

Steve Rapp - 151

Daytona SportBike Results


Cameron Beaubier

Martin Cardenas

Tommy Hayden

Jake Zemke

Jake Gagne

Cory West

Benny Solis

Joey Pascarella

JD Beach

Fernando Amantini

Daytona SportBike Class Standings - ( Round 8 of 11 )


Martin Cardenas - 314

Dane Westby - 250

Cameron Beaubier - 234

Tommy Hayden - 234

Jason DiSalvo - 194

Jake Zemke - 184

JD Beach - 178

Bobby Fong - 162

Cory West - 158

Joey Pascarella - 154

Next GEICO Motorcycle AMA Pro Road Racing Event
The AMA Pro Vance & Hines XR1200 Series will take its turn sharing the spotlight with the MotoGP World Championship superstars in three weeks time for the Red Bull Indianapolis Grand Prix on August 17-19.

The full tour will resume on September 7-9 at New Jersey Motorsports Park.

AMA Pro Racing is the premier professional motorcycle racing organization in North America, operating a full schedule of events and championships for a variety of motorcycle disciplines. Learn more about AMA Pro Racing at www.amaproracing.com.