Motorcycle Maniac: The New 2012 Honda CBR1000RR Is Sporty And Smooth
Chaparral Motorsports
|
July 30, 2012
[caption id="attachment_14365" align="alignright" width="300"]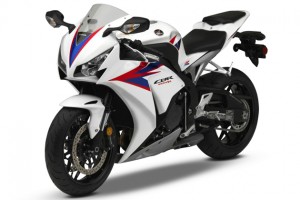 Riders with a need for speed are really going to enjoy Honda's latest superbike.[/caption]

Riders with a need for speed are really going to enjoy Honda's latest superbike. The new model is more aerodynamic, has an all-new suspension and better engine mapping that make it faster and easier to ride. Honda kept the 999cc liquid-cooled inline-four engine as well as the aluminum chassis from last year's model, so this bike is an excellent choice for riders who want to spend a lot of time on the streets as well as at the track.

When it comes to sport bike safety, the CBR1000RR ABS has a dynamic set of brakes with a combined antilock braking systems (C-ABS). Honda touts these brand new brakes as the first of their kind. When you apply the brakes, the electronic control system determines how much force should be applied to each tire, which is great for riding in different conditions - if the roads are wet, it's really hot out or even if you're brave enough to ride in the snow.

Riding the bike is a fun experience, but don't expect to be the dominant rider on the track. The midrange engine makes the motorcycle handle great around the turns, but it doesn't quite have the "oomph" you'd need to cross the finish line first against other bikes in its class, like the BMW S1000RR.

[caption id="attachment_14363" align="alignleft" width="200"]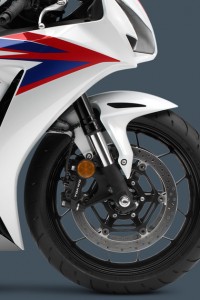 The 2012 Honda CBR1000RR's front suspension creates a smooth ride.[/caption]

While this Honda may not be the fastest bike on the road, it is definitely one of the most comfortable to ride, thanks to the new suspension design. The company's design team, in partnership with Showa, created a new setup for the damping piston, where it slides in a cylinder within the shock body on the rear wheel. This balance free rear shock double-tube design in congruence with the front suspension's 43mm Big Piston Fork creates a smooth ride that makes the irritating little vibrations you feel when the pistons are resetting themselves from compression disappear. The rumbling engine sensation is completely gone with the new suspension, which changes the way the bike feels in the road more than you'd think.

All in all, I'd say the 2012 Honda CBR1000RR is a fun sportbike. While it's not at the top of its class, it's certainly nowhere near the bottom. The smooth ride and powerful engine make this a great motorcycle on which to cut loose and enjoy the open road.

2012 Honda CBR1000RR Image Gallery
(Click for full size images)